Pitchfork Music Festival, in it's 13th year, was all about celebrating momentous occasions in the journey of an artist. The grounds were buzzing about festival headliners, the legendary Chaka Khan, and Lauryn Hill whose performance would be honoring the 20th Anniversary of her anthem album The Miseducation of Lauryn Hill. Of course the obvious questions arose surrounding Hill's appearance. Would she show? Would it be on time? Would it be good? All questions went out of the window Sunday night under the clear skies when Hill opened her mouth and sang her gospel. The album, 20 years later, still remains relevant and centers around issues facing self, women and uprising the black community. In Trump's America, albums like Hill's are transformative, and echo through our memory banks.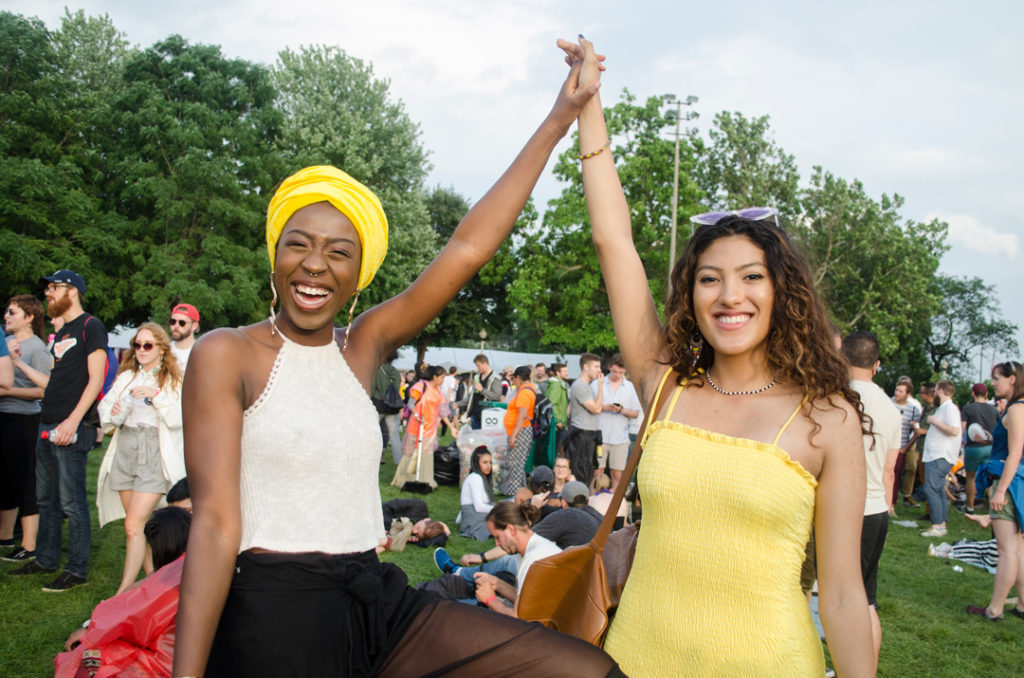 This year the festival, like last year should be applauded for its diverse lineup, focusing on giving artists of color a platform, most widely women of color, with performances from Tierra Whack who replaced Earl Sweatshirt, Kelela, Syd, and Chicago's own Noname and Ravyn Lenae, aside from headliners Khan and Hill. This year's fest was also very Chicago centric and friendly to local artists, seeing five acts from some of Chicago's rising stars on the cusp, who are surely on their way to legendary status in the music sphere, and rising together in the spotlight.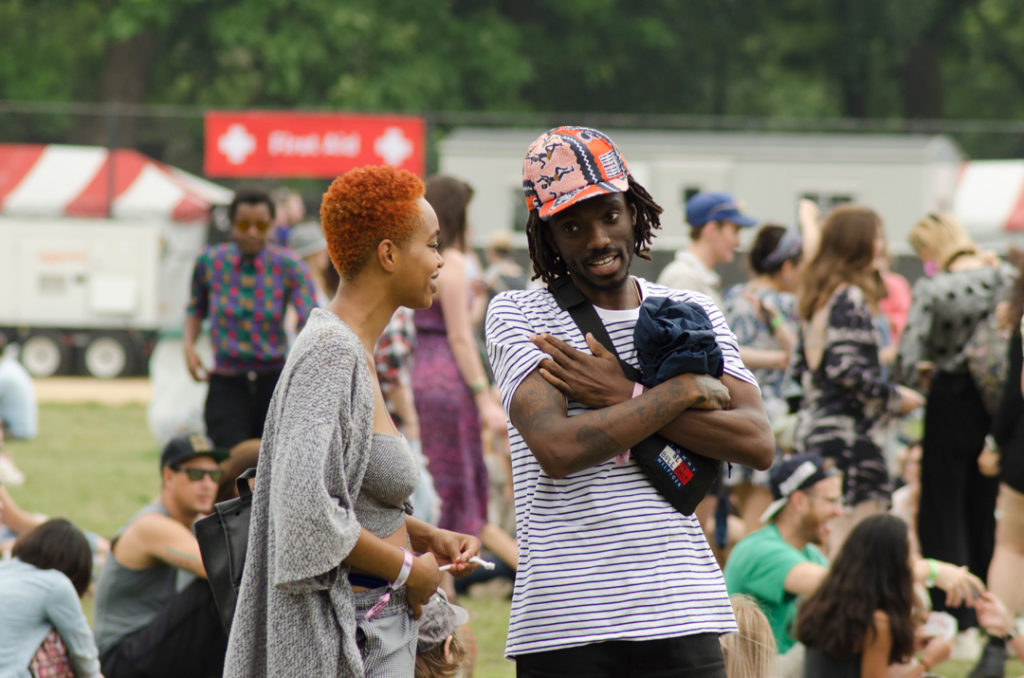 The weekend kicked off on a wet note, seeing rain on and off for the first two days, but that didn't dampen festival goers, and seemed a bit fitting that everything was grey for day one's highly anticipated Saba performance. Since the release of his second album Care For Me, Saba has been touring, and skipped over Chicago. Pitchfork was his first time performing the new album in his hometown, which he dedicated to his late cousin John Walt who was murdered. It seemed all of the shows before prepared him to perform for his largest audience yet, and he appeared seasoned and comfortable on stage.
The stage was set up like the album cover, a recreation of his grandmother's kitchen, with a fake fridge on stage. He came out wearing a t-shirt which read, "I Met Saba" on the front, and "He Cares For Me," on the back. He began with "Busy/Sirens," the first track on the album to an amped crowd. Following suit of the album, he went into performing "Broken Girls," "Calligraphy," and Fighter." After a little care, Saba found out who his real fans were when he transitioned into his earlier work from his acclaimed Bucket List Project, which catapulted the trajectory of his music career. He performed "Stoney," "World In My Hands," and his personal favorite on the album "Photosynthesis" which features Jean Deaux. In a city full of musicians, who support and perform with each other, it was surprising not to see the features perform. He ended his set with the Care For Me hit, "Life," and encored with "Westside Bound," which brought out the whole Pivot Gang crew to share the moment.
Switching gears, Syd followed Saba's performance on the Green Stage. Syd, former member of Odd Future (OFWGKTA), and the lead singer of The Internet, has always been smooth and sultry without trying. A majority of her set songs began with "this one is all for the ladies," apologizing to the guys in the crowd as the women swooned. She opened her set with "She Got It All," and "Shake Em Off" off of her first solo album released this past year. Syd was playful with the audience, the on and off rain added to the intimate mood of her set, and prompted her to say "this is going to turn into a white t-shirt contest soon," which I'm sure no one would have minded with her clean cut look of wide legged jeans paired with a crisp white tee. She also talked about The Internet's new album Hive Dream that dropped the day of. She brought out the rest of the members of The Internet to perform some old classics from Ego Death and songs from the new album, like "Come Over," and "La Di Da," which with the airy upbeat feeling prompted the sun to come out.
Pitchfork Veterans on the Parisian side, up next was the electronic duo Mount Kimbie from the UK on the Blue Stage following Big Thief. It was an added build up before the night's headliner Tame Impala. The airy vocals layered with the the synths created an ethereal mood, and switched gears from earlier performances on the grounds that day.
The night rounded out with the Australian psychedelic rock band Tame Impala, whose lighthearted dreamy indie pop reached the mainstream music scene last year when Rihanna covered "New Person, Same Old Mistakes" on her ANTI album, which of course they saved for last. They opened their set with "Love Song/Paranoia," and performed songs from their album Currents which came out three years ago. Despite having not released new music since then, the band has been doing the festival circuit. Long time Tame Impala fans appreciated their set despite the low sound, and danced into the night on songs like "Let it Happen." Their light show and projection art was enough to keep anyone stimulated, and surely the confetti explosion mad it a day one to remember.
Day Two kicked off early with a little rain, and cleared up a bit just in time for Berhana's 1:45pm set. You can always tell the true fans, by the ones who come to catch the early performances of the day. Berhana is most widely known for his underground hits, "Janet" and "Grey Luh." Just a week ago he released a new video for his single "Wilidin." Pitchfork is always really great at giving smaller artists a shot at the stage, even if it happens to be an earlier set. Berhana took full advantage of that opportunity and we can't wait to see what's next from him.
We were first drawn to Moses Sumney, two years ago when he performed Pitchfork for the first time and his angelic voice beckoned us across the grounds to find out who the person behind the voice was. Two years later, Sumney graced us again, and this time at a bigger stage, and left an even bigger impression. Moses Sumney is a heavenly being. He wore a whimsical all black fit, with gold accents, bringing forth an afrofuturist vibe. He performed new music, and songs like "Make Out in My Car," "Quarrel," and "Rank and File" from his album, and of course "Plastic." To christen the sound he had the audience do a series of "oms" in unison at the beginning of his set. It's nice to see artists experiment with sound and instruments, sometimes even using their bodies or mouths to create new vibrations. Using a looper he cupped the mic, slapped the mic, layered amidst his high pitched singing. At one point he even sat on the edge of the stage and jumped into the crowd and walked through the middle partition and held the hand of a concert-goer, and you could see her mouth "I love you," on the big screen. 
Raphael Saadiq is timeless. Not only does the man never seem to age, he never seems to lose his cool. He came out with the funk, the rock, and the signature voice, wearing a blue jean jacket, bright patterned shirt and straw hat accompanied by an electric guitar. He announced in the beginning that he had always wanted to try and perform all new music at a festival, and felt like Pitchfork was the right place to do it. Of course one of the main reasons folks come to festivals is to see their favorite musicians perform their favorite songs so they can sing along. Although, he started off in an unfamiliar territory, being the true artist he is, the music didn't skip a beat. He spoke about a new album in the works that was inspired by his brother's untimely death due to a heroin addiction. He did play some of his hits though like "Be Here," and a medley of songs like Erykah Badu and a rendition of Cranes in the Sky where he chanted "I tried to smoke one today, I tried to blow one in the air…"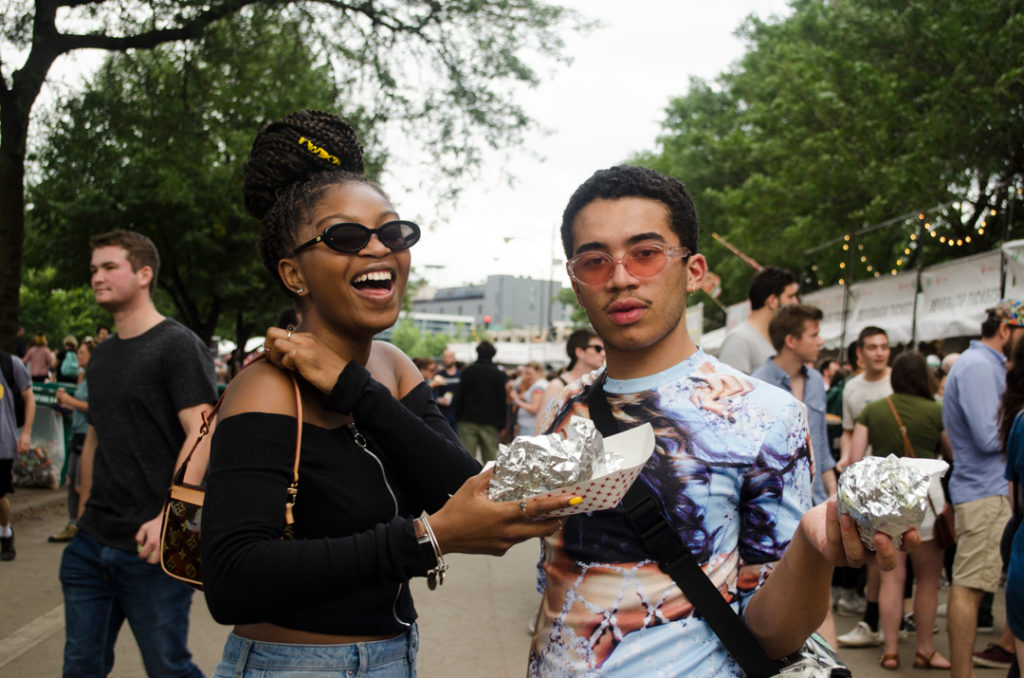 Sunday was for the city. A festival that you already run into everybody you expect and don't expect to see, a festival that has a whole area dedicated local printmakers, poets like Raych Jackson and Emon Lauren, comedians like Ashley Ray, record stores, and had a bill of artists that emerged from the city playing alongside legends of all time. The day was filled with so many positive outlooks and hopeful messages and with such feel good music. Housing the same stages at different points of the day artists ranging from Noname who illustrates stories that are often reminiscent of Nikki Giovanni's famous Nikki Rosa, along with the extraordinary disco diva and Chicago born Chaka Khan. Then to end the night Ms. Lauryn Hill closed the festival and revived her debut and only released EP The Miseducation of Lauryn Hill.
Kweku Collins is a little bit hip-hop, a little bit rock and roll, and a little bit reggae. He totes J. Cole and the Marleys as one of his biggest inspirations and you can definitely feel that in his music. He's just 21, is from Evanston, and has been making music since he was a teenager, and this was his first time taking the Pitchfork stage in front of an audience of his peers. Throughout his set he kept calling out people, some he hasn't seen since high school, to say hello and thank them for coming. Feeling nostalgic he even did "Lonely Lullabies," a song he made when he was 17 in his bedroom. He was wearing a custom hockey jersey and plaid pants designed by Chicago designers JAJA and Emma Mckee, most widely known as Stitch Gawd, reading "Stupid Fucking Roses," the song that helped him get on that stage. He did a nice rendition of the Yeah Yeah Yeahs' "Maps," and brought out Milwaukee's Webster X, also a Closed Sessions signed artist, for "I Got Bandz." Using the stage as a platform, he thanked Chicago for welcoming him into the creative community, and told men to "watch their space," saying "You don't have to be a burden unless you make yourself one.

Ravyn Lenae kicked her set off with her graceful operatic voice and reassurance of the normalcy of sadness, heartbreak, but also confidence and exuberance. Ravyn stepped onto the stage with a stunning shimmery stringy silver crop top and a long skirt underneath. Wrapped around her mic stand matching her eye makeup was a red rose bouquet. She addressed the crowd saying, "I'm so happy to be home Chicago," and made the audience hold up a pinkie and promise to move their bodies and sing her lyrics. She filled the atmosphere with songs like "Computer Love" from her newest EP Crush which is produced by Steve Lacy of the Internet who also made a Pitchfork appearance Friday during Syd's set. She also performed hits from her EP Moon Shoes, and Spice, and even engaged in a bit of playful conversation with the audience, and took some time to talk about messages in her music about confidence and self love before going into "Edges on Tight." Overall a family affair ensued with Ravyn bringing her family on stage and warming the crowd with her spiritual tone.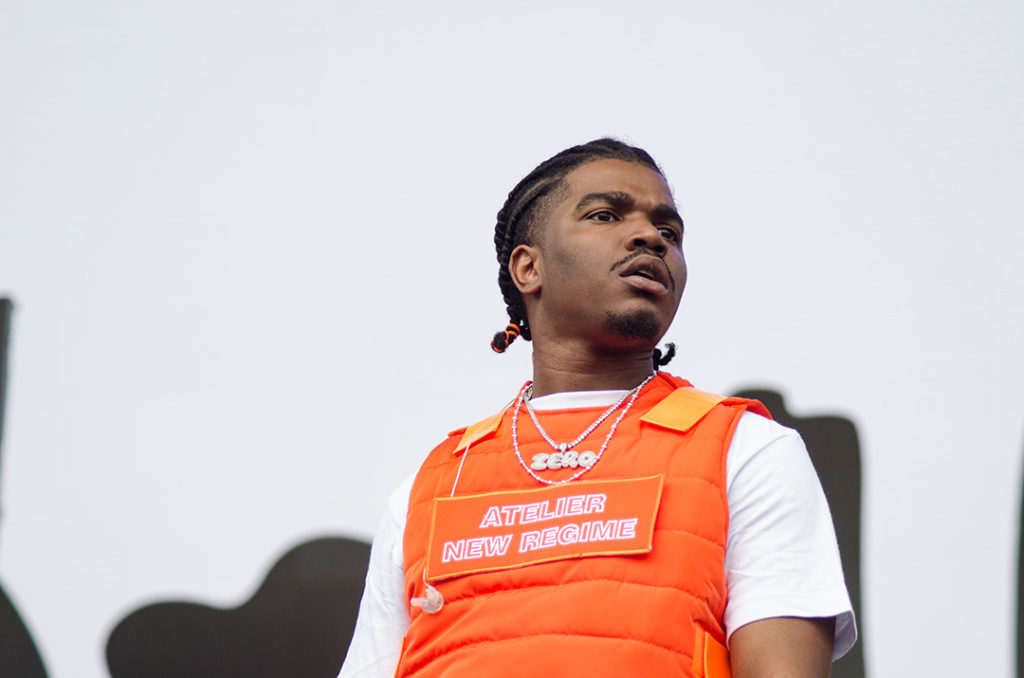 St. Louis country boy Smino made his way to the Green stage to deliver a soulful hip-hop performance while evoking a 90s R&B vibe. Smino started his set off with his hit blkswn, and played songs from the album, along with a few covers sprinkled in. His ability to spit vocabulary violently while also singing with such soul is accurate of the state of Chicago hip-hop. Every rap artist that performed Sunday had a live band on stage with them and Smino in particular, with his big bright orange vest and slicked back cornrows, created a throwback musical vibe, not to mention he lit a blunt the size of a ruler and passed it to the crowd to share in true stoner fancy. The black swan himself at one point told the crowd to find their best friend, hold their hand and had the crowd singing Musiq Soulchild's So Beautiful.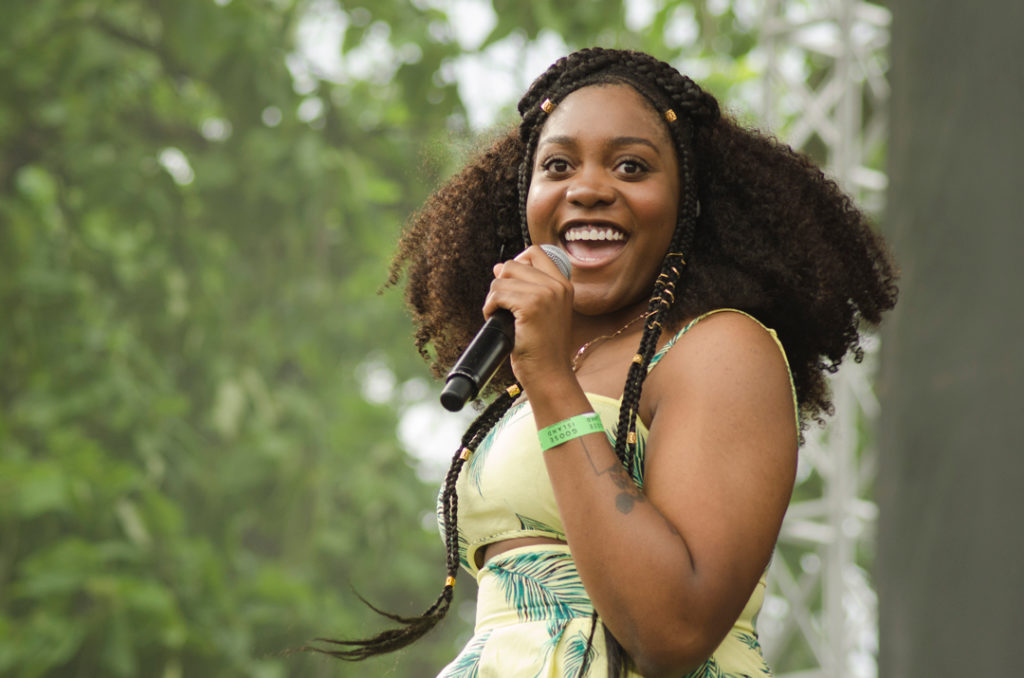 Noname skyrocketed to fame quickly after her album Telefone dropped and established her as a solo emcee rather than just a feature. She sold out most of her shows, went on a world tour, and even performed on SNL. It's been two years since Noname's released new music; however, days prior to her Pitchfork performance, she hinted that a new album was in the works on her Instagram. Her music evokes a soothing aura, even through traumatic depressing subjects in songs like Casket Pretty and other songs off of Telefone.  She had a band with her, and they came out kicking an upbeat new bop. She decided to seize the opportunity and open up her performance with new material. Despite some slight sound issues, and a few forgotten lyrics to her new songs, Noname kept at it, cracked some jokes about white privilege and spread her Chicago love by bringing out Ravyn Lenae, Joseph Chilliams, Smino and Saba during the tail end of her set.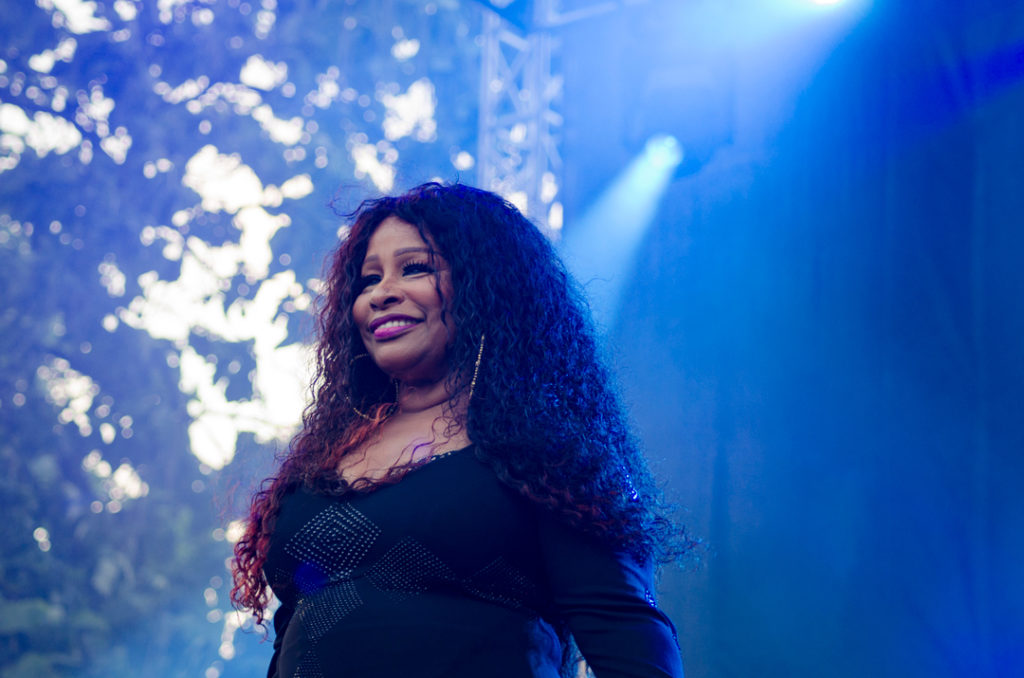 In this day and age you never expect to see such legends take the stage. The music of the past can feel so far away from what is popular thus making it difficult to carry on musical traditions, but when the opportunity to partake in a musical experience with such a woman like Chaka Khan, you know that music will never leave you when it's in your heart. Chaka Khan taking the Red Stage in harmony with the sun set after a beautiful dry day enlightened the crowd. Whether you knew the lyrics or not, which most people did, you could feel the bass and you feel her unmatched energy. Being able to witness her perform "I'm Every Woman", and "Ain't Nobody" which came out more than 30 years ago, still fill Union Park with joy and unapologetic love for live music and artistry.
Celebrating the 20th anniversary of her first and only album, The Miseducation of Lauryn Hill, that has famed her into one of the best emcee's to hold a mic was our soldier, Ms. Lauryn Hill. 1998 was a shift in musical precedence and broadened the horizons with the release of not only The Miseducation, but also the likes of Aquemini, Mos Def & Talib Kweli as Black Star, and Capital Punishment. Hip-Hop's colorful palette was well represented this year and these albums, specifically Ms. Hill's, are still being celebrated and Sunday night was that. The singer, rapper, conductor, and inspiration that encompasses Lauryn Hill were all on display. Even down to the set projections, there were images on the screen displaying images of black artists like Lorna Simpson, Nina Chanel Abney, and Mzoxlo Mayongo. The DJ warmed up the anxious crowd with classics. One false start later, the air shifted and the instrumentals began, and Ms. Hill emerged. She began the anniversary with "Lost Ones," stepping out in a black and white long coat with a flat top black A's church hat. She carried her band on her back, while they to her in return. Moving around the mic and stage as she sang the anthem that is "Ex-Factor," the song you turn on for your affirmation. Hearing "Zion" live felt like a spiritual experience bringing Lauryn to tears, even her back up singer appeared mystified. She took a moment to address the crowd and talk about her legacy, commanding the attention of thousands. Lauryn's voice, her words, and her vision as she describes it, she said "is only but the vessel for the message." We thank such a beautiful woman for the medium and taking the stage, and only just 25 minutes late.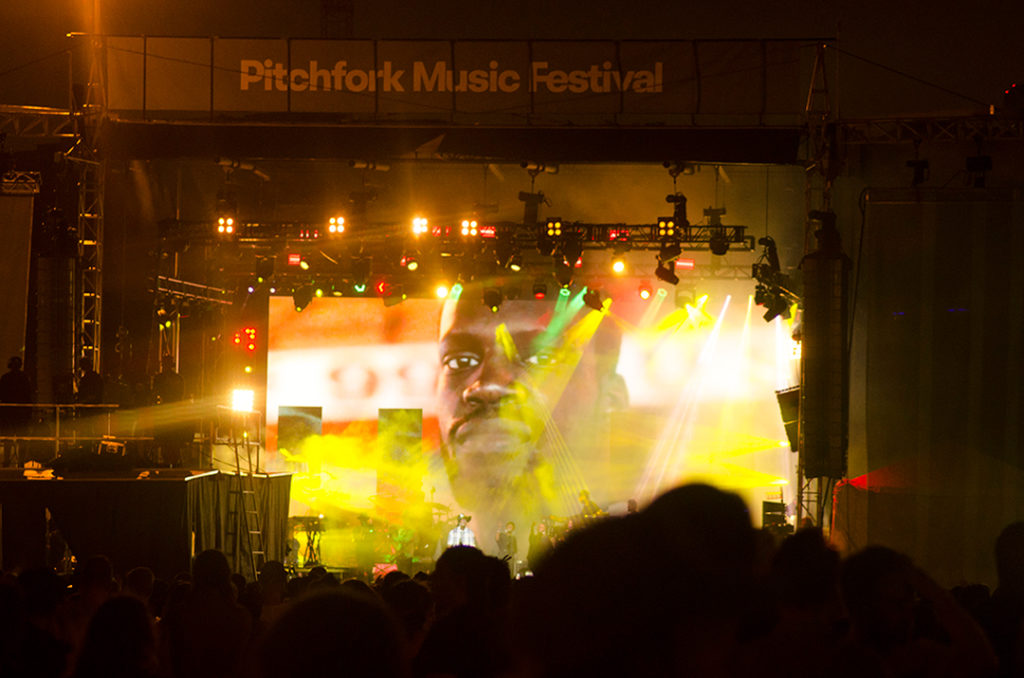 A day predicted to be rained out and gross, was the warmest and most Chicago centered of all the days of this year's fest. It was an opportunity to showcase the talented individuals who continue to push the city's music scene into a top contending city — a  city that cares for and represents its artists. The music that was birthed in just under 250 square miles covers Hip Hop, folk, punk rock, and the infinite house were all in some way on display. Beyond the performers the merch tents full of different print artists, record stores, and everyday people putting on the festival was good to see; It's good for community and good for art. Even just for the fun of a festival, there were free paletas around the park, delicious sandwiches and fries, and the shade and shelter the trees bring with the backdrop of a beautiful city and a booming soundtrack.
Check out more photos from Pitchfork here!
Contributing Writers: Ciera Mckissick, Lela Gaye
Photo Credits: Richard Parks, Ciera Mckissick
---