Interdisciplinary artist and native of Birmingham, Alabama, Erin LeAnn Mitchell has created an extensive portfolio of works that tell stories of Black femininity, perseverance, struggle, beauty, and pain. She's created a mirror for Black artists to see and feel the importance of creating and sharing art, for Black femmes and their stories, and for us to celebrate our roots and unique beauty. 
She found her way to Chicago in 2011 to attend the School of the Art Institute of Chicago for her Bachelor of Arts, and got her Master of Arts Education at Columbia College of Chicago in 2016, and taught art at Chicago Public Schools. After a decade in Chicago, Mitchell remains a Southern artist through and through — it's depicted in her work references and through her journey back to the South.
Since her residency here with us at AMFM, her work has been featured on the FOX TV Show, Empire, she awarded a custom piece for Black Feminist Revolutionary, Angela Davis, and she has been on display in many galleries. She just recently exhibited work at FLXST Contemporary in a duo show, "won't you celebrate with me" inspired by Lucille Clfiton's poem, and has work in the Birmingham Art Museum's exhibition, "All Things Bright & Beautiful."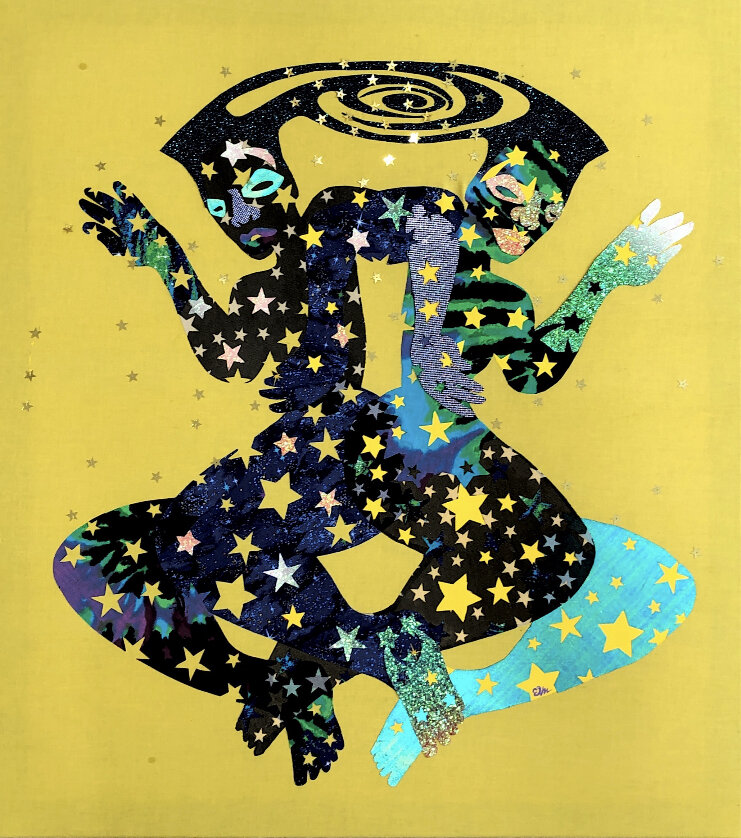 AMFM: How was growing up in Birmingham for you? What were your interests as a child and what inspired you to ultimately pursue a career as a creator? 
ERIN LEANN MITCHELL: I had a pleasant upbringing in Birmingham. I have two older sisters, but was mainly left on my own to play and would usually make up imaginary scenarios to act out. I think being able to bring those scenes and ideas to life on paper, or whatever media I chose, inspired me to pursue a career as a creator.
AMFM: Your work has been featured on the Fox TV show Empire. Can you speak to how and why you chose the piece you did for the show? And what is different for you in the process of creating when the piece will end up a part of someone else's story. 
MITCHELL: Empire chose the work that would be featured in the show from pieces I'd already created. Centering black women is at the forefront of my creating process so there's a familiarity in the work that resonates to many stories.
AMFM: The southern experience is often portrayed through Chicago residents who arrived in the city due to the great migration. How has living in Chicago and studying at Columbia College Chicago and The School of the Art Institute of Chicago affected how you perceive your hometown and being rooted in/based out of a new city? 
MITCHELL: I realize my advantage in leaving the South, and that learning at these well regarded art institutions provided me opportunities that don't exist in the South for artists. Because of that I feel I have a responsibility to put on for my city and Southern arts to bring recognition to the talent that exists in the region.
AMFM: Blue is obviously a constant in your work. It feels as if all your pieces are a quilt and you're patching them together, what does the blue mean to you?
MITCHELL: A few meanings of blue for me include, withheld trauma like Fats Walker's "What did I do to be so black & blue?," the cool color and style and swagger of black people, 'haint blue' in Southern customs — homes would paint their porches and doorways this color to ward off evil spirits, originating from the Gullah. 
AMFM: What inspires you to create? What inspires the textures and materials you'll choose? 
MITCHELL: I have a diverse collection of images, music, and materials that inform my work. The layers of paint, fabric, and embellishments are the embodiment of these various references I've arranged in a composition. 
AMFM: And I have to ask about the piece you awarded our champion, Angela Davis, with at the Birmingham Museum of Art. From the outside, it feels as if that moment must've been affirming and just right. Can you speak about what it actually meant to you? 
MITCHELL: It's still surreal to look back on that moment and deeply significant for it being rooted in my hometown. I returned with a goal to leave my mark in Birmingham and this commission surpassed anything I could've imagined or planned. I feel it was manifested and affirmed my path as a notable artist.
AMFM: What have you learned about yourself during this last year and how have you adapted to our new normal? 
MITCHELL: I've learned to be present in this moment, to breathe, and lean into others for support.
Learn more about Erin LeAnn Mitchell here. 
Watch an interview with AMFM Founder and Erin LeAnn Mitchell for 21c Hotels below. 
Photo Credits: Erin LeAnn Mitchell, Brock Scott
Contributing Writer: Lela Gaye
---