Yvette Mushimiyimana, who's stage name is Ibaba, is not the gritty, starving artist type you expect to see with musicians who are releasing their first "real" album. To her, music is something she uses meditatively—it's a chance for her to reflect upon her thoughts and feelings and use them to create something new. That reflection is felt within her music, which often takes on a spacey, ethereal tone that encourages listeners to fill in the blanks with their own introspections.
Ibaba's first full-length album, Notes, drops April 10th. For her, that date not only marks a milestone in her musical career, but also opens the door to a transitional phase in her life. Ibaba spoke to our writer KC Esper about this transition, her music, and more.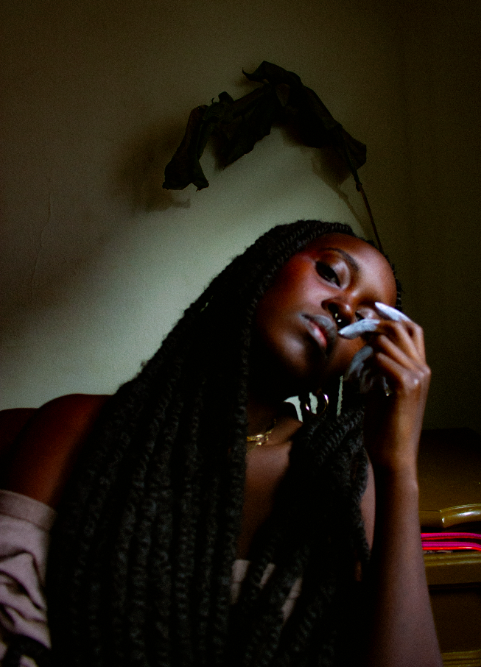 AMFM: Tell me a little bit about your name. Why did you choose it?
IBABA: Ibaba is a Kinyarwanda word meaning "wing," like a singular wing on a bird or a plane. Rwanda is where my family is from and Kinyarwanda is the language we speak, but a lot of times I feel disconnected from that side of me, so I wanted something that brought me closer. As I was looking for a name, I was trying to find something that looked visually good to me, and the idea of flying felt very ethereal like a lot of the stuff I make.
AMFM: Was music something you always wanted to pursue?
IBABA: It's always been something I've been interested in. I remember getting my hair braided by my mom and watching American Idol and thinking, "Oh my god, I want to do that," and her response was something like, "Oh for sure, but be a doctor though." So, I grew up singing, but I didn't go to church where people sang and no one in my family sang.
AMFM: Who did you pull inspiration from then?
IBABA: Girl, I wanted to be every R&B artist I was exposed to as a young person. I loved D'Angelo—I still love D'Angelo, and I love Lauryn Hill. Those two come to mind immediately, but I'm so far from who they are . . . like my music is so far from theirs. I wanted to emulate them, but I think someone who I subconsciously emulated was James Blake. When I was introduced to him, I was so surprised by him — like, he manipulated the song structure that I knew to be standard. He's very repetitive and complex and his lyrics are very simple, but say so much. I use a lot of repetition in my music too, and my lyrics never tell you a full story from beginning, middle, and end. It's more inspired by improv.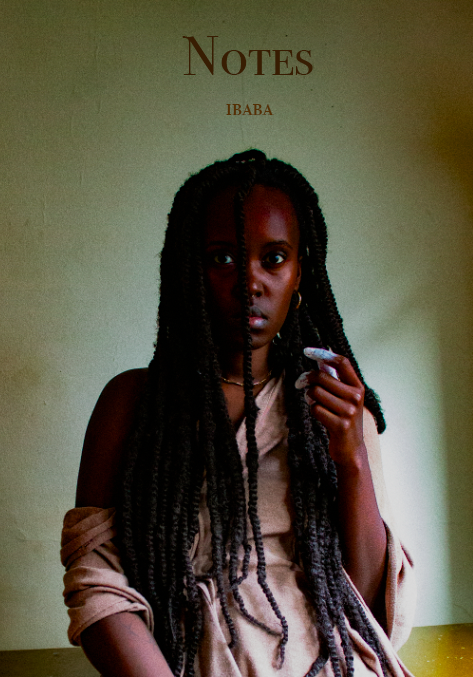 AMFM: Tell me about Notes. How did this project come together?
IBABA: At the beginning of the pandemic, I was making music and just recording songs on my iPhone, but after making a couple songs, I realized I actually fucked with those songs—like, those were songs I was proud of. I decided I would put them together and re-record them when I could.
A lot of the songs I make are like journal entries to me, so I'm not intentionally going for a certain mood, I'm just kind of spilling blood. I feel like the sound that comes out of me is kind of an accident, but all the songs have a theme of becoming and leaving this lost place in the world. I feel like this is a transitional state in my life right now, and this album is transitional too. I'm making this at a time where I'm post-college, in the outside world, and suddenly I have to become human. So, this feels like a rebirth, like I'm rejecting the human that the school system and institutions like capitalism have nurtured, and I'm grounding myself in music. What makes this project more official is I got it mixed and mastered for the first time by Jayda Love. Usually when I'm collaborating with people it's because I'm collaborating on their stuff rather than mine, and it just felt really good to be able to pay another artist to master my music. Plus, she's a woman, and it's so hard to find women engineers.
AMFM: What are some songs you think we should look out for?
IBABA: Man, you're asking me to pick my favorite child right now. Okay, there's a song called "Spell," and in it I keep repeating, "Maybe I walk in abundance, maybe I drool holy water," and I like that song a lot because when you listen to it—especially in headphones—you'll notice that I switch between those two lines to the point where it actually feels like a spell and it feels like I'm summoning greatness onto whoever is listening. And there's also a song called "Balance" that I like a lot. I can't say for certain, but I think if one of these was a hit song, "Balance" would be it because it's just harmony galore.
AMFM: What are your plans after Notes drops, now that this new phase in your life has begun?
IBABA: I'd really love to get a deeper knowledge of instruments and also try changing up my lyrical style to be able to tell a story. On a more technical side, I'd love to collaborate with more producers and engineers so I can learn from them, and then I'd really love to experiment with performance. I have to release this album just on streaming platforms, but in the future, I want to have a release party that's really interactive and engages the audience with the music and makes their bodies part of it.
Check out Ibaba's album, Notes below, and check out the virtual concert powered by Society Chi presented by AMFM and our friends, YGB Portland, with opening act Yawa, formerly known as Amenta Abioto.
Contributing Writer: KC Esper
Photo Credits: Ibaba
---