On a hot August afternoon at Vincent Martell's third story walk up apartment, we discussed all the encompassing methods he and his company, VAM STUDIO, have taken to produce, direct, and create for their Chicago community. VAM STUDIO is a Chicago based production company that's developed web series, music videos, documentaries, and all types of video production work. As a team they've cultivated a sacred space for black, brown, and queer artists to experiment with ideas, while being supported artistically and financially. The company has been active for almost two years now and have created major projects with Junglepussy, Jamila Woods, and recently Jidenna. With a team of individuals made up of set designers, directors, videographers, and writers, their multifaceted background of people helps to continue to further the scope of what artists from marginalized identities can achieve.
For too long and still to this day production companies are in no way centered or give care to the communities that support their content. Vincent Martell is a brilliantly intentional business owner and creative and leads up a company of forgotten artists in the mainstream Hollywood scene of film and productions. VAM STUDIO gives these artists affirmation of who you are and what you can be by providing the tools and family to do so.
AMFM: What are your earliest memories of feeling joy or compelled by a film or music video? What kick started your interest of producing, directing, and starting a production company?

VINCENT MARTELL: I would say that I got the opportunity to study abroad in Barcelona basically by my mom scraping the funds together to get me to Barcelona, Spain. It was basically my first introduction to the underground film community there, and I got this opportunity to experience art without the idea of America's societal woes. I was living in a country free of America, or what I felt free to be, at least to me, and I was experiencing some of the most unapologetic and progressive art that I'd ever experienced. That was my introduction to film stumbling upon an underground film screening in Barcelona. Before I went, I was a commercial actor, a really bad badddd actor, but it was more so I used that opportunity as an actor to experience this world of film. Especially after I got back from Barcelona, I started to realize that no one was really documenting Chicago's underground film community or DIY scene. No one was meshing the production side of art or the underground scene that was happening in Chicago. I spent the next few years kind of assembling a team and figuring out how I could create a production company that had a voice and had something to say that was different than what the mainstream was giving us. All of that really stemmed from my time in Barcelona and experiencing the craziest types of art imaginable and it was definitely my main inspiration behind VAM.
AMFM: When did you come to the realization that you needed to mesh the Chicago underground scene with a production company?
MARTELL: The big AH HA moment came when I got back from Spain and immediately. I have a bunch of friends who are drag queens, club promoters, burlesque dancers, and community organizers, and I was sad to see these people weren't getting the attention that they deserve. I think tapping into my own community and my own resources was like 'oh shit we can create content by the community and for the community.' That's very rare to do one and maintain that sustainability, but we started on a very micro scale going to different gay clubs and showing two-minute documentaries and went to DIY spaces and started to be a fly on the wall. That got us the experience and allowed me to build a team that would take it to a more production realm.
AMFM: How would you define yourself? What is your creative role as VAM STUDIO?
MARTELL: I've learned that my role is a lot of things and that's been something I've been coming to terms with. As exciting as it is, it's incredibly exhausting to hold so many responsibilities. I am the founder of VAM STUDIO. I'm a film director. I'm a producer. I'd like to think that in many aspects I'm cultivating a community of artists that are killing it right now and need a support system and a team to throw ideas, mesh, and vibe off of. In a sense VAM is that helping hand, and it's my job to navigate that and figure how to curate that content to the best of our abilities. Whether that's us producing a web series or a music video or party with Party Noire. It's us doing it with the idea were gonna do it as a team, we're gonna play because artists of marginalized identities usually don't get that ability to experiment, play, feel supported and get paid. That's a very rare thing across any metropolitan city and for us to be doing it for as long as we've had, for as many people as we have, close to 100 people paid this year is really impressive and were doing it in a very unapologetic way. I think you're right the Chicago community is so much different than the other metropolitan cities. One thing I hear, the sense of community is so strong in the Midwest, especially Chicago because we realize to get the work done we need each other to collaborate. Chicago is a bit more accessible income wise. I think it allows us to breathe a little bit, versus the East and the West coast. This Chicago community is something that is ingrained in all of my projects. I know to get to where I got, it took a huge community supporting and pushing me and allowing me access. All we really need is access to prove we can fucking kill it and we do it every time. So VAM I think is that access for a lot of people and a lot of artists and filmmakers. And not just in Chicago now, but also in New York and LA.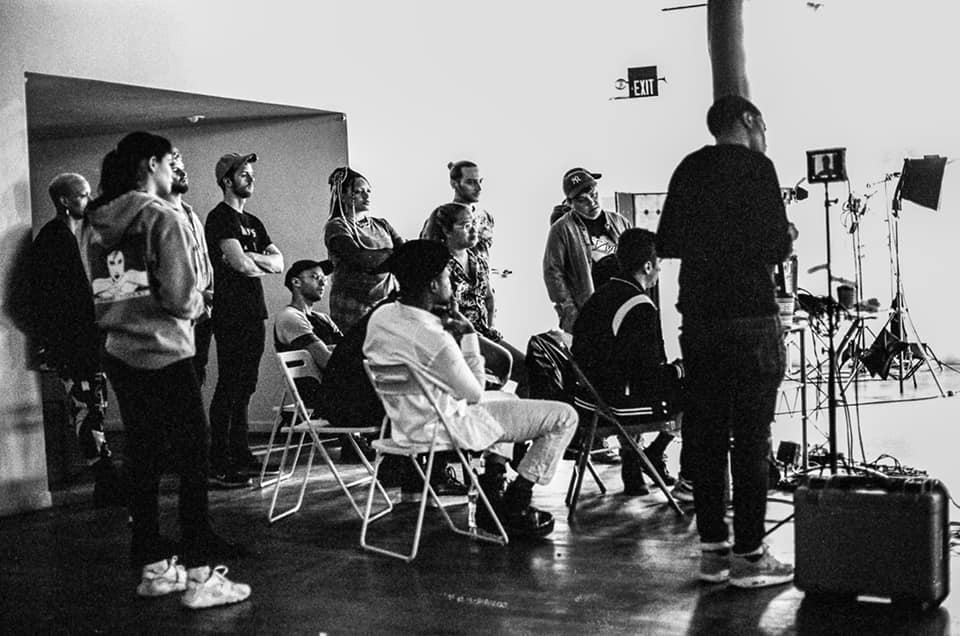 AMFM: What does expanding look like for LA and New York? Is that just collaborating with artists in these cities or having a space?
MARTELL: Both actually. Half of our productions this year have been booked outside of Chicago, which is a huge thing for us to launch as a Chicago based company two years ago, and now for us to be generating income in New York and LA is a really big feat. With that said, we always try to grow with intentionality. So what has happened is we have people reach out to us versus us reach out to them. We're not chasing work outside of Chicago, people outside are chasing us. With building a team outside of Chicago, we first have to be sure the people that we bring on understand our mission and they fuck with us and they have something to bring to the table. Also, we need to be sure they have great energy. I think one thing us creatives lack, especially when we get into the business side, is the importance of protecting our energy and creating a space that will allow for better energy to flourish and creativity to flourish. Really quickly I think about Damaged Goods the web series and how I wanna say 75% of our screenings are from outside of the U.S.
AMFM: Really? Do you know what specific countries?
MARTELL: South Korea, Berlin, Amsterdam, London, Australia. We're in talks to screen in Ghana. These are all people who've reached out to us to organize these screening through their communities because they fuck with the Chicago story and this dynamic of people of color hustling and trying to make it. I made this specifically for my people and my community and Chicago, so to see this network of people come and relate to what we're doing here is just really validating.
AMFM: Are they any prospects for a second season of Damaged Goods?
MARTELL: Yeah! There are a lot of prospects for Damaged Goods right now. Shortly after we released, we started to get a lot of attention from different production companies and it allowed us to realize we have something really special. In addition to developing out TV series for a network or a TV series, we're going into pre-production of the second season. I decided to pursue that anyways because I want to make it more black and brown and more queer before I start to get thrown into this Hollywood sphere.

AMFM: Does it become difficult creating for yourself while serving an audience? How do you maintain that balance?
MARTELL: That's a great question and it's tough. My job is not just to be a film director. It's also to make sure everyone is getting booked and getting paid and constantly being linked with opportunities and collaborations that can benefit them as an artist. I know the trajectory of each person of my team because we've sat down and spoke about it. And my job, which I take very seriously, is how can we get you there. With that being said, I've learned that it's very easy for me to get lost in that and prioritize dozens and dozens of people before me. So I've had to fight for time and my personal art, but that's tough. One I'm running a business and people depend on me. At the end of the day, I have to find this balance between how to prioritize my own art, but how do I keep this pushing for these groups of people who've supported me and fucked with me and also deserve a chance.
AMFM: Where does the name VAM come from?
MARTELL: I get a lot of shit about that to be honest because my initials are VMJ. A lot of people think VAM is an acronym or initials of my name. It came from me living in Barcelona, high as fuck, and just coming up with terms in Spanish and basing this onomatopoeia out of it. I love words with V and I wanted to keep it simple, but also I think there's a strength in black business owners having a mystery to their brand. Whereas white people get to do it all the time they throw out whatever the fuck names they want, and people eat it up because it's cool, so why can't I do that? Also, VAM is a sacred place in my heart that I want to keep close.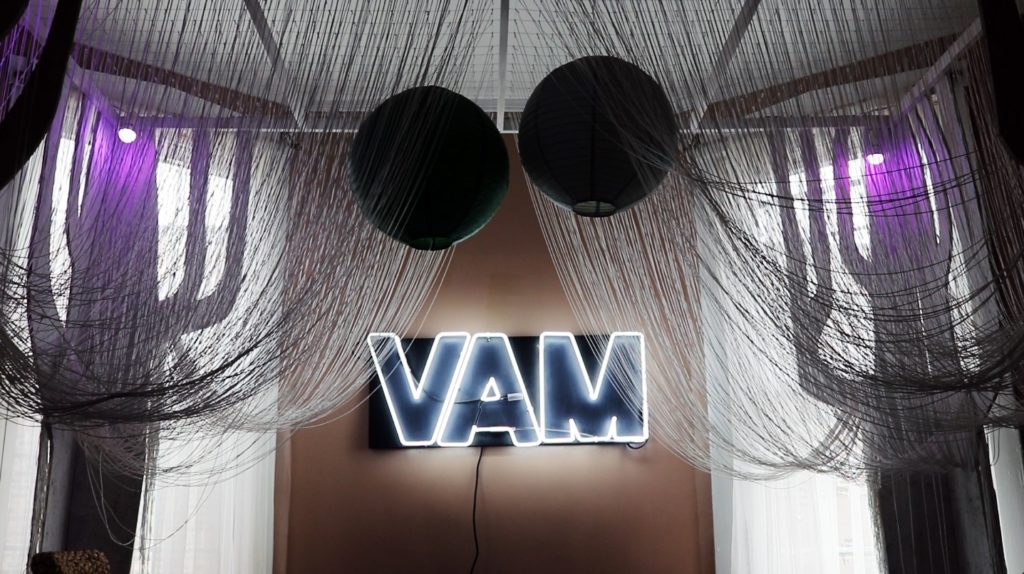 AMFM: Why was it important for VAM STUDIO's leading message to center around underrepresented identity groups? And how do you remain authenticity to so many different identities.
MARTELL: Where that comes from and what makes us different from a lot of companies out there is that this idea of diversity is not a trend for us. This is how we are. This is our friend group. This is our chosen family. That what it looks like incredibly diverse, nuanced, and messy. And I think that's what VAM is because that's who the team's comprised of. VAM was founded by me, but I brought on my partner Jordan and my best friend Sam Bailey who's a filmmaker, and they helped to craft this world and bring in this group of artists to symbolize what VAM is and what we will be. One thing we're out here to do is create for ourselves and we'll always prioritize that. We get a lot of people who reach out to collaborate and gain, it's us knowing we want to create with people for decades and decades not just years. Before we even decide to collaborate, it's checking out their work, stalking them online, checking out their chosen family to be sure they align with us, because we want to grow with them and them with us. We say no to a lot of brands and turn down a lot of money, and that's because we want this to stay safe.
For more info about VAM STUDIO:
https://vamstudio.net
Contributing Writer: Lela Gaye
Photo Credits: VAM Studio, Facebook
---