The
de Young Museum
in San Francisco, California is has been showcasing a robust and radiant multimedia exhibit titled "Contemporary Muslim Fashions," featuring an 80 piece presentation from Muslim designers from Turkey, Japan, Middle East and Southeast Asia. Launched in September and closing this January, the display reflects the diversity and creativity in style from politicians, media influencers, athletes and designers alike, from everything from streetwear to high fashion. If you find yourself in San Francisco, you still have more time to catch the photographs, news clippings, video contents and physical attire on display until January 6, 2019 before it moves to the Museum Angewandte Kunst in Frankfurt, Germany.
This has been a big contribution for Muslim representation in the mass media and public arena. Over the years, Muslim men and women have continued to be misrepresented or even worse underrepresented. We hope that the release of the "Contemporary Muslim Fashions" sparks conversation in multiple communities and awakens brands offline. Online we have seen millennials conquer fearlessly on different platforms by raising awareness through obtaining opportunities that allows them to utilize their voice, which in return has successfully created a safe haven for Muslims on the worldwide web.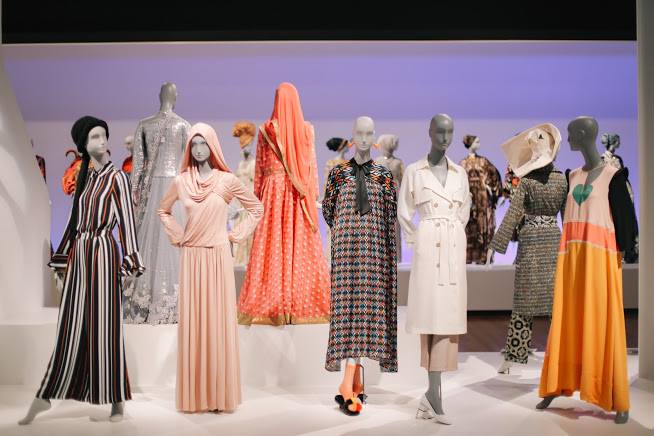 The exhibition features mannequins donning burkhas to hijabs, and some without, to represent the diversity of choice when it comes to Muslim women's fashion. It also is broken down into sections;  one of them focusing on streetwear and sports wear. Nike made waves in the media when they launched their
Nike Pro Women's Hijab
last year. British Designer
Sara Elenany
, who is also featured in the show, has been making hip and urban designs that appeal to Muslim youth since 2009. She created her line
Elenany
after struggling to find fashion that appealed to her as a teen, and repurposing her own. After getting compliments from Muslim and non-Muslim women, she decided to launch the line. A large component of her brand includes a graphic element, and modern cuts and shapes while maintaining a sense of modesty.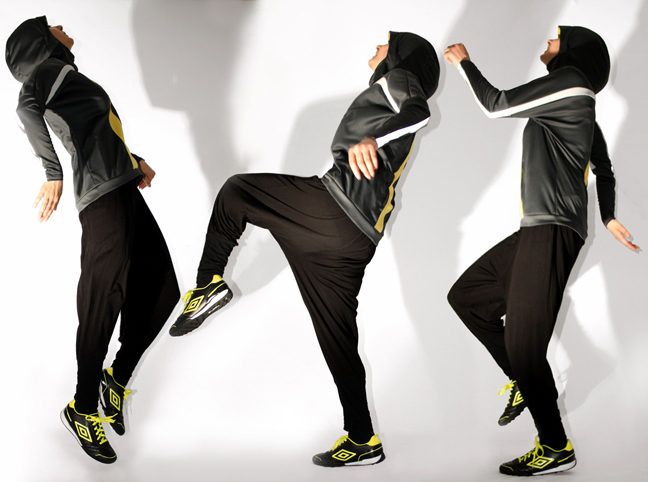 Big name designers like Karl Lagerfeld and Jean-Paul Gautier also lend their high end spin in Muslim couture designer dresses. And Chicago's own fashion blogger and political activist
Hoda Katebi
, along with other designers, bloggers and activists is also featured in the exhibitions photography portion to explore ideals of identity and fashion for the modern Muslim woman. This exhibition is the first of its kind for a major institution. However the work doesn't stop there, and must continue outside of the walls. Offline we still have a lot of work to as far as bringing awareness to people in face to face  interactions from different cultures and those that may have opposing views. Organizations and businesses should not excluded from the conversation as far as speaking up for the Muslim population.  Luckily this is a pivotal first step that can only move forward from here.
Contributing Writers: Maxcine Noah, Ciera Mckissick
Photo Credits: Facebook (de Young/Elenany)
---