Gabrielle Tesfaye is a New York based  interdisciplinary artist from Milwaukee whose creations are distinct and transformative. She is a first generation citizen. Born from an Ethiopian father, and mix- heritage Jamaican mother. She creates across the mediums; painting, animation, film, puppetry, and interactive installation, which stems from her cross cultural experiences as someone who has traveled internationally. Tesfaye is a highly decorated as a young artist. She received her bachelor's degree in fine arts from the University of Wisconsin- Milwaukee. Her art has been featured in Vogue, Afropunk, and in galleries across the world. She has been on a fellowship to Thailand and been an Artist in Residence in Tholpavakoothu, India.
In her art she explores the painful history of the diaspora with her incredible art centering primarily on women. Her short film The Water Will Carry Us Home, is an amazing demonstration of her abilities; combining beautiful illustrated puppets and emotive stop motion film making. She creates in the afrofuturism space, incorporating elements of magical realism narrative to transform history into a motif of healing and empowerment for women of the diaspora. She incorporates Yoruba spirituality into much of her art. In her depictions of women, they are often ornamented in traditional body art and and sacred symbols, and almost always are shown with an elaborately drawn third eye. Keep reading to hear from Gabrielle Tesfaye herself about the meaning of her work, and her journey as an artist.
AMFM: What was childhood like for you? Did you have always have a passion for the work that you do now?
GABRIELLE TESFAYE: I always had a passion for art. From a young age, I dominated spaces with art making, and I took my elementary school masterpieces quite seriously! Making with my hands was my default, and art was the way I understood the world. When everyone was drawing stick figures, I was painting very detailed women. I always made gifts for my friends for birthdays instead of buying them. I carried around books that had beautiful images and stories to them, usually mystical tales and magick related books. I even slept with them under my pillow, and declared that a magician's spirit lived within it. (Because of this I was often bullied in my childhood). I taught myself to write runes and hieroglyphics into my art. My pieces usually had some type of narrative to them as well, so early in life I was establishing distinct meaning to visual. I drew what I read, what I imagined, and what I wanted to see in the world. I would say that still holds truth today.
AMFM: Why is it important for you to have this type of content in the world?
TESFAYE: Within my work I've navigated a shared language to bridging ancient ways with contemporary understanding. It is important, especially in our growing generation that we notice how our passions, our activism, and our cultural heritages become stronger in our consciousness and current day practices. Over the years we see a growing interest within people, going back to "the past," studying ancestral power, healing rites, cultural rituals, and relearning our history. In my recent film, The Water Will Carry Us Home, the feedback I've gotten has powerfully affirmed what our artists, writers, performers and creatives of our time strive for,  connection, reclaiming history, and ancestral healing of our trauma in a different narrative than old scripts have given us.
AMFM: Who or what has encouraged you throughout your life as a black female artist? What excites you the most about your process?
TESFAYE: My mother and father both have an artistic soul as well and I am blessed to have been in a household that encouraged my interest in the arts as a life commitment. I'm also inspired by other female  artists, such as Wangechi Mutu for her magical atmospheres, and Frida Kahlo for her vulnerability and strength. The journey itself is my greatest push, I'm inspired by past art I've made that I rediscover years later. The process of an artist is more of a world, we are our own art history book and study ourselves to become masters at our crafts. The more I learn, the more I travel, the more I overcome fear and am able to give purely to the world to inspire and heal others is what excites me.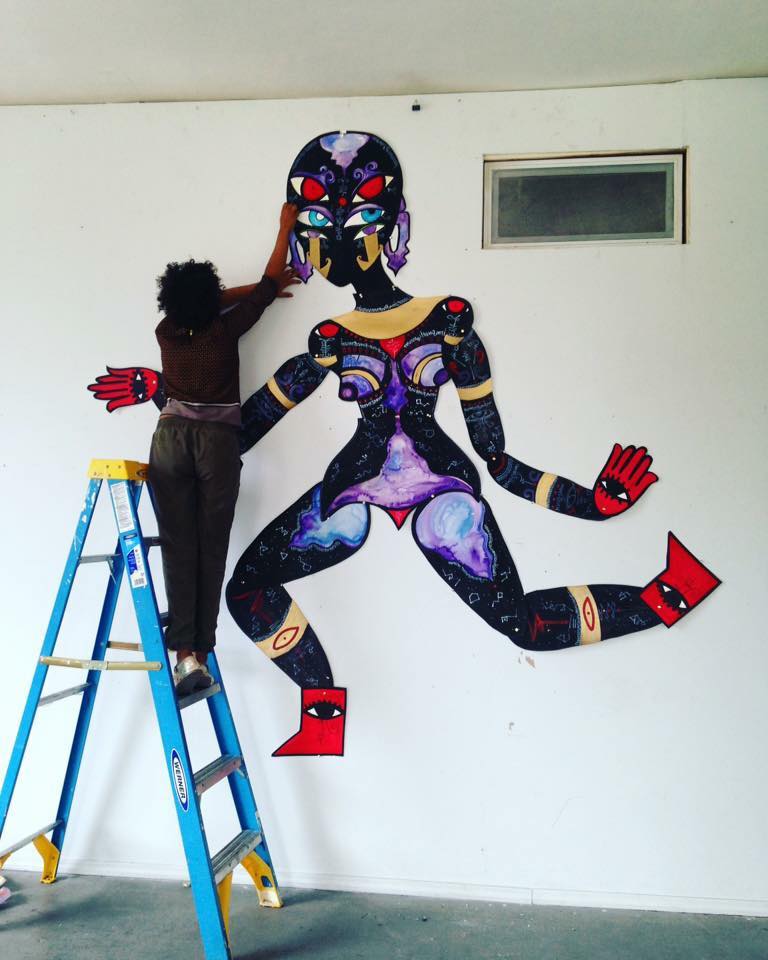 AMFM: Can you please discuss the foundations of beauty within your work?
TESFAYE: Within my work, a foundation of beauty is something that must derive from what is pure. When painting a woman, I am not necessarily trying to paint her to be beautiful. She is already beautiful, we are already beautiful, I am painting what is organic. A feeling, a way, not a mask or an ideal. Art gives us feeling, whereas images in media may make us think "I want to look like that", a painting makes us say, "I want to feel like that, embody that essence, know that wisdom, rediscover that birthright in my heart."
AMFM: How do you go about finding a way to start your next piece. What triggers that for you?
TESFAYE: Sometimes it is a poem that triggers the next painting, an experience, a song lyric, a revelation acquired looking out of a plane window. A vision in meditation. A ray of sunshine. Or a throbbing idea I know I must get out to the world, in my stored memory bank of inspiration I have yet to make into art. When creating my film piece about enslaved Africans being thrown overboard the ship, and turning into mermaids upon crashing in the waves; it was something I had stored for awhile that I knew was time to finally create.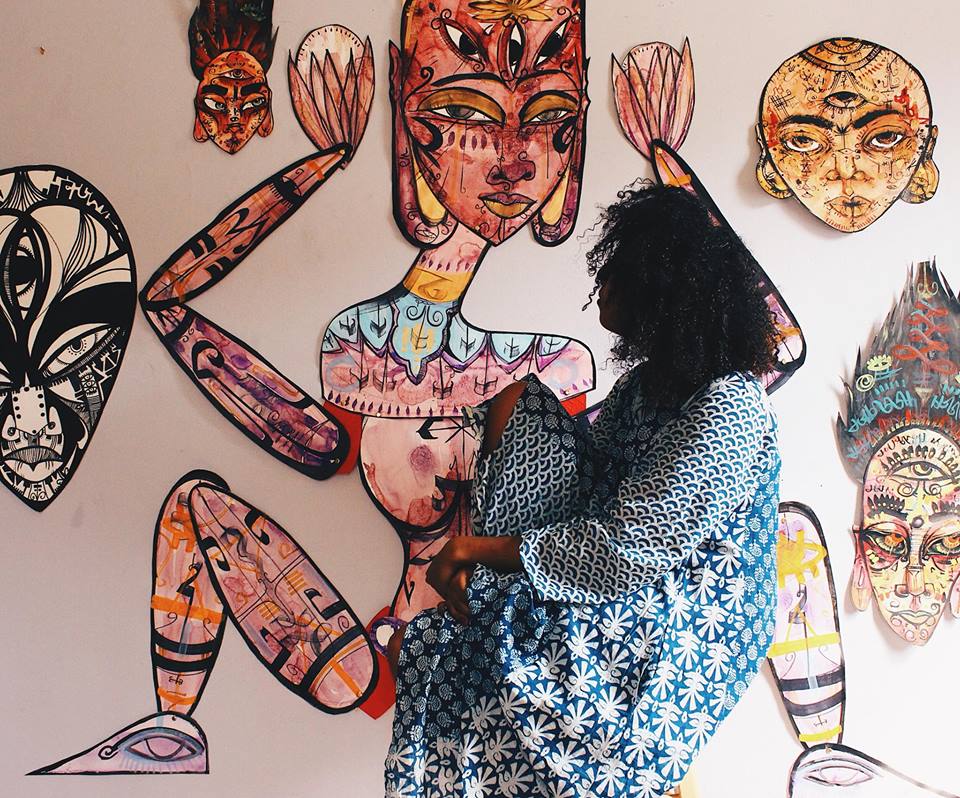 AMFM: Talk about the connections between your work and your life? What are you working on now?
TESFAYE: My work comes directly from my life, they're always very personal because of that reason, but also universally shared experiences. Either my art derived from an experience I've had in this life, or history from ancestors. They are always shared, which is why they connect so deeply to others. I've connected with a lot of women over the years because of the amount of vulnerability I've put into my work, thanking me for bringing such an image into the psychical. It's like when you find a song that you relate to so much, and play it over and over again. That's what finding a visual which depicts your experience feels like, a mirror reflection of you or what you are going through. Right now I'm working on getting The Water Will Carry Us Home into film festivals, traveling, selling my work to relocate to Thailand for my next Artist residency, and taking a break from the animation studio until the next film idea comes to me!
Contributing Writers: Alyssa Travis, Tahirah Ali
Photo Credits: Facebook
---