When Mother Nature takes the stage they exude revolution. The two women are also activists, lyricists, and unapologetically black. The duo is comprised of members, Truth, from right here in Chicago and Klevah raised not too far in the city of Champaign. They offer a platform to inspire all women universally, and contribute to communities that not only need the acknowledgement and support, but also communities who are worthy of that.
Contrary to mainstream definitions or media, Hip-Hop has always been a safe space. A space where people of color and youth can express themselves and their appreciation of the genre and how it has influenced their lives and culture internationally. They discuss the culture and elements of Hip- Hop, collaborations, healing and educating within the community and building with other artists. They also have been able to open for artists such as, rappers, Princess Nokia and Ty Dolla $ign the beginning of this year, so this is definitely the year for Mother Nature.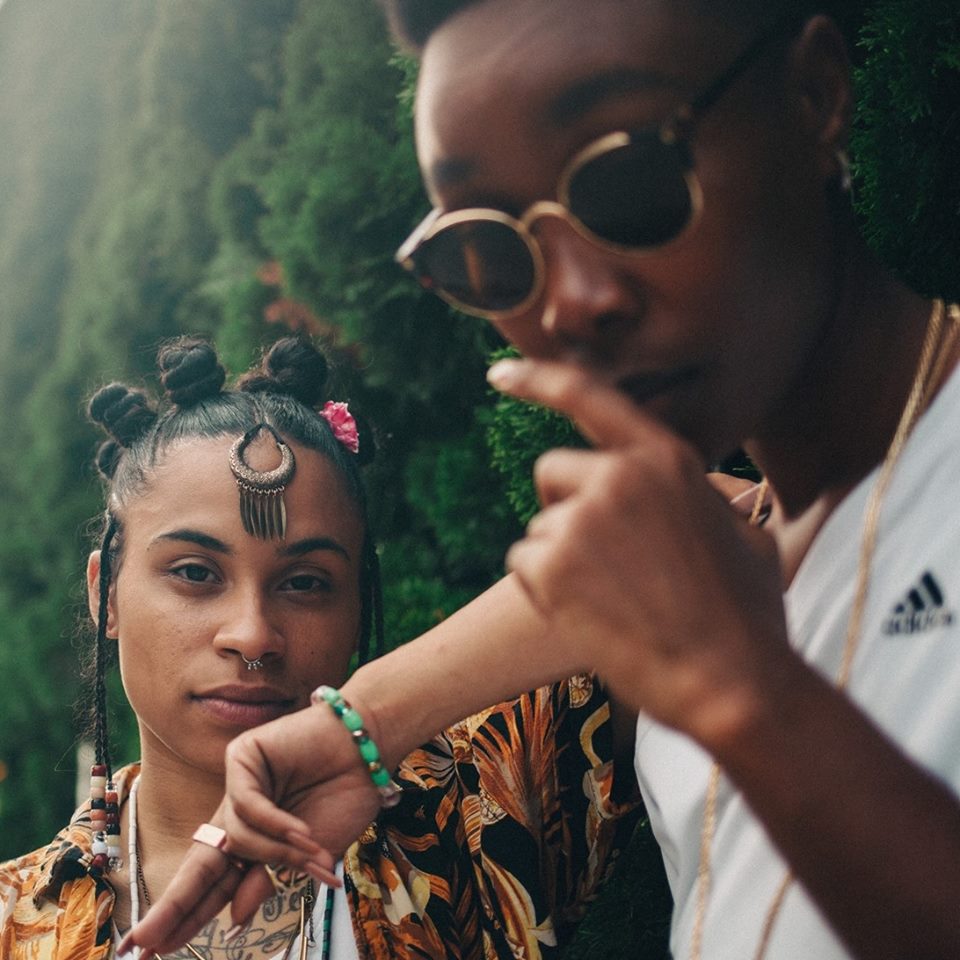 AMFM: When did you fall in love with Hip-Hop?
MOTHER NATURE (KLEVAH): Beautiful, for me, when I fell in love with Hip-Hop, it happened for me in early childhood. My dad is an emcee, and is very embedded in Hip-Hop and Hip- Hop culture. He had a home studio, and it was makeshift, DIY, but he would always be in his room, doing his thing, mixing, just being silly, and he would always bring me in, and sample my voice and stuff like that. And so I guess my experiences with him are when I fell in love with Hip-Hop. We used to listen to a lot of Tribe, a lot of Badu, and Rakim, it just became apart of me.
MOTHER NATURE (TRUTH): I kind of fell in love with Hip-Hop before I even knew it was Hip-Hop. As a shorty, I would always write poems. It was always like a rap, but it was a poem. One day, I don't even know what I was watching, but I saw my first rap video, and was like "I kinda do stuff like this," so it just sort of clicked for me. It was one of those things where I was always able to express myself and be free. I was shy and quiet as a kid, and that was only way I expressed myself, so that was when I fell in love with it. I was like, 7 or 8 years old.
AMFM: How does feminism relate to Hip-Hop to you?
KLEVAH: Feminism is hip-hop. I mean, women are the pioneers in a way. A lot of times, I see that women truly are the backbone or are pushing certain things – even with us, our management team is women and I wouldn't have it any other way. And a lot of times when we work with people, we prefer to work with women, because women are serious and deliberate and get shit done. So I really feel like hip-hop wouldn't survive without women, if that's what you consider feminism.
AMFM: Who have been your biggest influences throughout your life and career?
KLEVAH: My dad, my sister
TRUTH: Michael Jackson, Stevie Wonder, Erykah Badu, Wu Tang Forever. All of the greats pretty much.
AMFM: How has your relationship evolved creatively?
KLEVAH: We just  be in tune now. From finishing each other's sentences, or literally thinking the same thing in the same moment. I'll be working on something, she'll be working on something, then boom – it comes together.
TRUTH: It's beautiful to know that you got somebody on your team, just as driven and just as creative and ready to push the envelope as you are. We are always trying to be bigger and better. It's always good to have that back and forth and elevate one another.
AMFM: What is Mother Nature working on now? What are your next projects?
TRUTH: Coming up next- definitely more singles. A new visual dropping very soon and a fresh release. Some features coming up. We are definitely in the mix of working on projects right now. We're trying to solidify producers. A lot of stuff coming, working with God and moving forward.
Contributing Writer: Tahirah Ali
Photo Credits: Haley Scott
---