This unique moment in time is forcing us to adjust to an entirely new norm. Across the globe communities implemented some form of lockdown in protection of their people, and people are questioning the systems in place that serve and protect. As we settle further more into this unfamiliar territory, we are inevitably forced to rely on innovating new methods. The beauty in all of this is to be cognizant that there is always room for growth. Vihanga, a fashion brand (now based in Los Angeles), founded by Vihanga Sontam and Miles Jackson, is leaning into its growth and questioning as well. Fusing both their upbringings, with Sontam born in India and Jackson born in the United States, they assembled a clothing label representative of their individuality and how the two marry to tell their story.
The way color influences the taste and smell of Sontam's life in India, in company with Jackson's sculpting eye, Vihanga defies the physical space we occupy. The clothes are woven to depict their community of supporters as well as the cultures they represent. The structure of the current fashion industry doesn't adhere to the current climate. Fashion is a tool of reinvention and Vihanga intends to pivot in confidence with the changing tides. There is no historical example of how to take next steps, so they are creating their own. Before their move to Los Angeles from Chicago, Vihanga shared how they envision their brand to move forward and what foundational blocks are essential no matter the location, time, or space.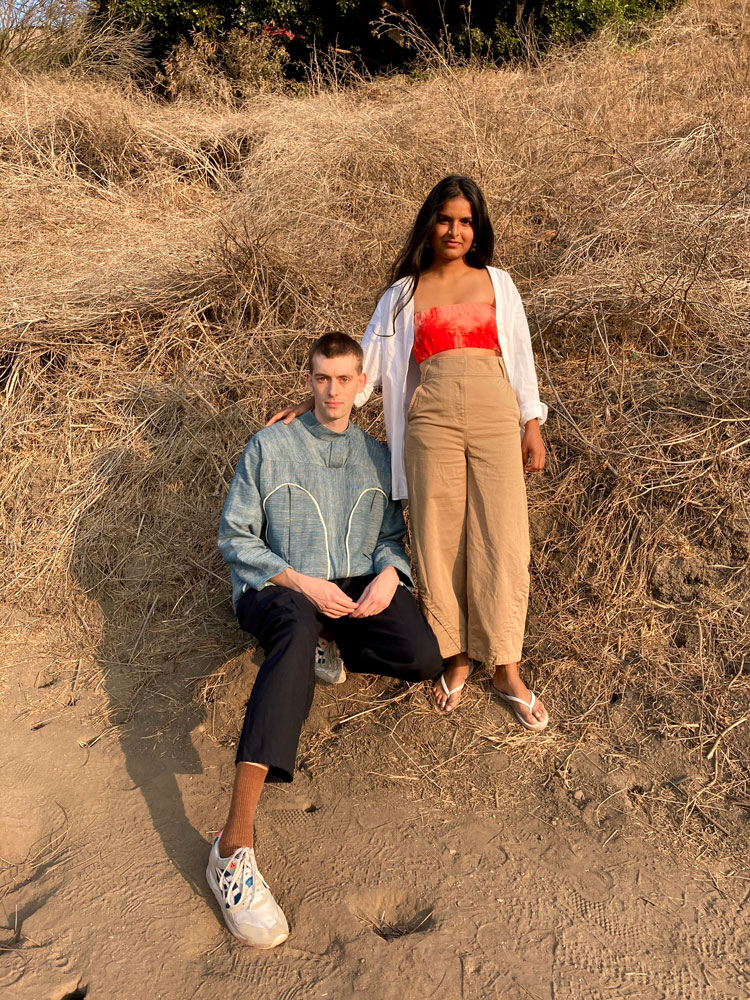 AMFM: What is the origin story of the brand and its name "Vihanga"?
VIHANGA: We chose to name the brand Vihanga because that is Vihanga's first name and it's so unique. That being said, the decision partially comes from our relationship to representation as well. The fashion world is still a white space so we made an intentional decision to put her experience at the forefront of our work, to make that representation an implicit part of the label.
AMFM: What has Vihanga learned about itself whilst maneuvering in the world of fashion as an independent small business?
VIHANGA: As a very young business we are still laying out the foundation for the brand. This is honestly the best time to learn about what's not working in fashion. An incredible amount of exploitation and waste goes into producing clothing, which then lives a very short life, before becoming waste again. The industry operates on a path of constantly accelerating growth. If that growth is put on pause –even for a few weeks, the entire system collapses. We are in the middle witnessing the entire industry fail. We're paying a lot of attention to structure right now to try and imagine a completely different model. It's not like we've been around 50 years and are now trying to turn a huge mechanism towards a more responsible practice. Our scale makes us very agile to move in any direction we want.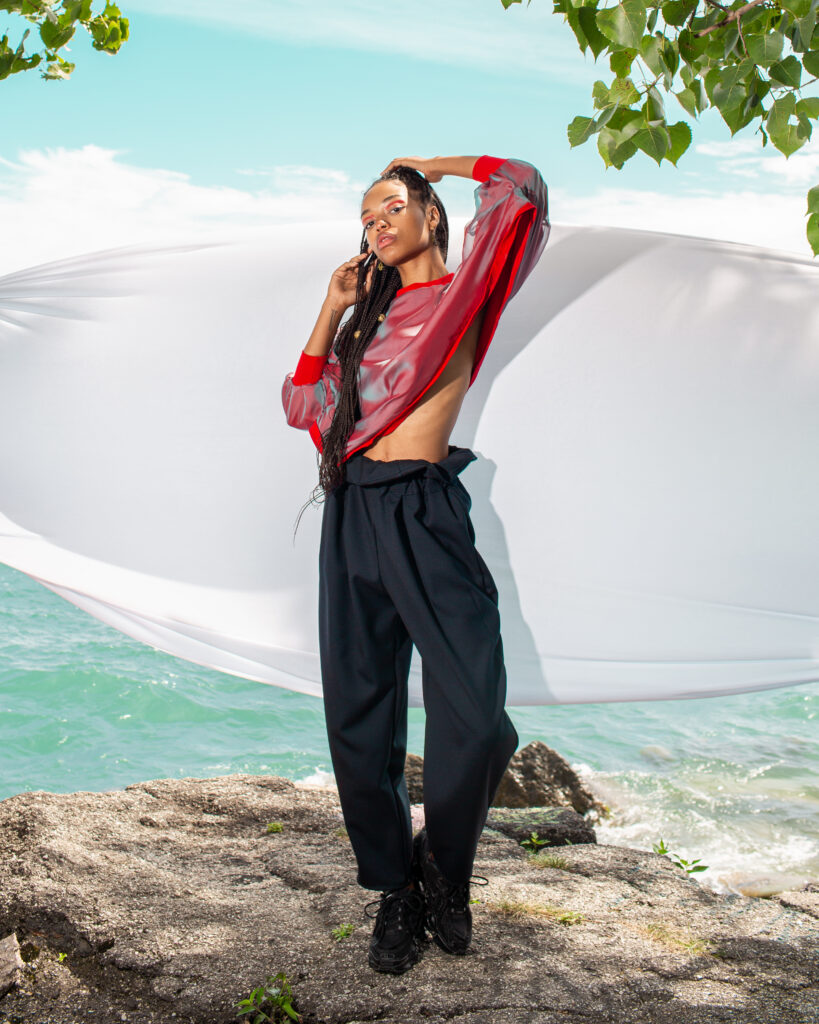 AMFM: Your F/W and S/S 2019 line features a lot of shapes, colors, and patterns, but also simplicity and minimalism. In terms of materials, you use, and the designs created, what story does the fabric or design you choose tell, and from where do you all gather materials or gather inspiration?
VIHANGA: The diversity of both our experiences gives us plenty to work from. Miles grew up as a B-Boy, so he has a sensibility towards loose fitting clothes with clean lines — he's been trained as a sculptor too, so much of our focus on shape and form come from that training. Vihanga has a more emotional connection to color, that's something that's harder to describe. Growing up in India, you are submerged in everything you experience. It's like eating a mango, you don't just taste it, you feel the juice run down your wrists. Even the whites and greys have a vibrancy, fullness and intentionality. With each collection, we try and get closer to this embodied experience of color. Most of the fabrics that we use are shipped in small packages from Vihanga's friends or her mom. These are often hand woven so we try to respect that tradition and don't manipulate them much, but we're getting into dyeing and creating our own prints which is so fun. Miles has been making drawings that we are printing for the next collection.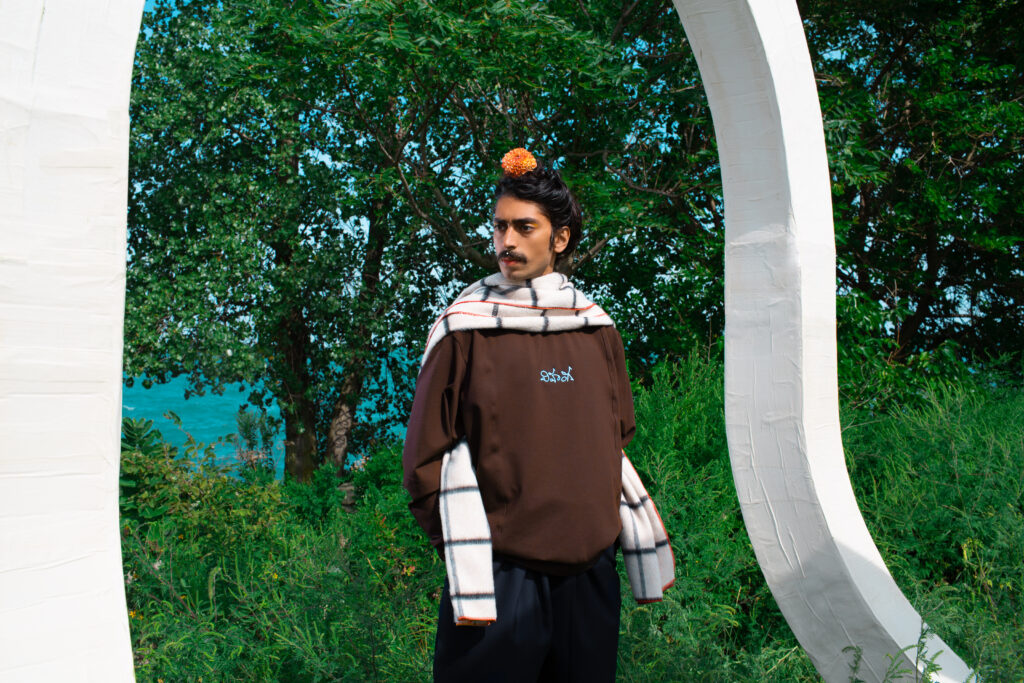 AMFM: You describe the brand as a global brand, how do other countries/places inspire the work?
VIHANGA: We started the brand over FaceTime while Vihanga was in India and Miles was in the States. So, the label was born neither in the US or India, but the space in between.
AMFM: Can you talk about the idea of having one of your first shoots replicate the experience of going through TSA at the airport?
VIHANGA: Even in the privileged position of having paperwork, it's always a pain in the ass to come to the States to visit. The TSA shoot was a way for us to subvert our anxiety about not being able to see each other because of ever-worsening border policies.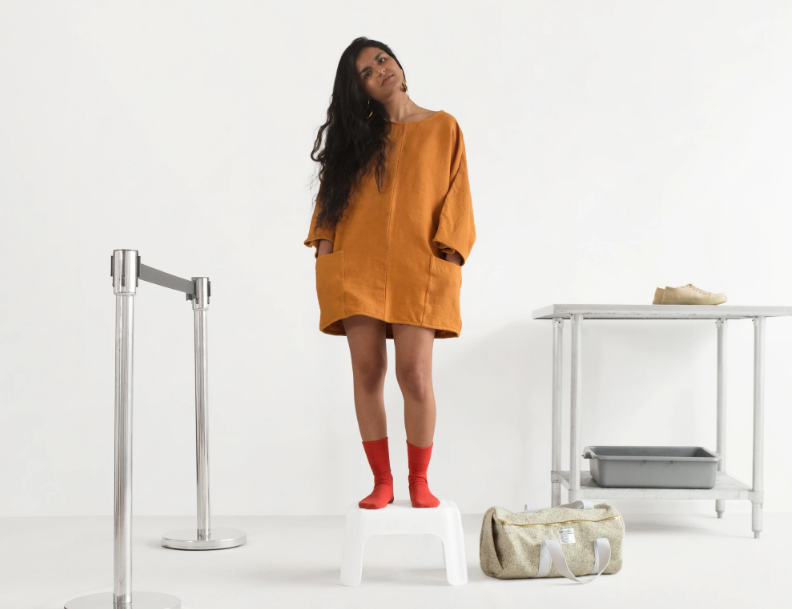 AMFM: Have you all received any formal training on running a clothing brand or designing clothes? If so, what tools did you learn that still carry over in your work? If not, can you speak to how you all gained the skills to launch your collections and an online shop?
VIHANGA: Vihanga has been formally trained in clothing design, and Miles in visual art, which gave us a starting point for the design itself, but neither of us have formal business training. That's something we are learning as we go. Running a brand means doing so much more than designing. Miles plays a big role in set building, directing shoots, and marketing. We are also fortunate to get support through our friends who help us with everything we can't do ourselves. From hair and makeup, to website coding, to equipment access, to spinning parties; we get a lot from our community.
AMFM: In a fashion world that's often wasteful and perpetuating a culture of overconsumption, does Vihanga practice sustainability in terms of materials used, the number of clothes produced/demanded, and where and how clothes are made?
VIHANGA: Because we are still small, our attempts at sustainability have been small-scale so far. We produce everything ourselves in made-to-order runs to avoid having dead stock. The fabric that we use is natural and handwoven. We ship everything in compostable packaging – things like that. But what we're focused on next is responsible growth. How do we structure our business according to a new set of values? That's the big question. A lot of fashion companies use "sustainability" as a marketing catch phrase, but aren't committed. How to be truly ethical is a focus for us. At the end of the day, investing in small local brands is always better than buying from large corporations, even from a carbon footprint point of view alone.
AMFM: What's next for Vihanga, and what have you been thinking about in terms of the future of the clothing brand?
VIHANGA: COVID has confirmed a lot of things that we have already been thinking about before shelter-in-place started. It's blown everything wide open, and all the failures of the industry (and capitalism) have been laid bare. We're taking this time to rest, but also re-orient ourselves. Our third collection won't be tied to the European seasonal release calendar. What rules should be kept? And what should be thrown out? Now is the time for us to rethink everything. We're hopeful about our ability to do that and we're looking forward to seeing what that change means for other creatives who are on the same path.
For more information
Vihanga
Instagram
Facebook
Photo Credits: Vihanga, Facebook
Contributing Writer: Lela Gaye
---