This year's Pitchfork was hot in so many ways. In the literal sense, Friday and Saturday reached temperatures over 100 degrees. But, figuratively, despite the scorching weather, the performances were fire, too. Apparently the Chase Sapphire Lounge was too, but only members would know. The festival also teamed up with Young Chicago Authors for the Blue Stage, with young poets opening up for each act, in true Chicago fashion.
Friday kicked off the weekend with notable performances from MIKE, Rico Nasty, Valee, and Earl Sweatshirt. Kudos to the artists for taking on the sweltering heat to bring us the heat.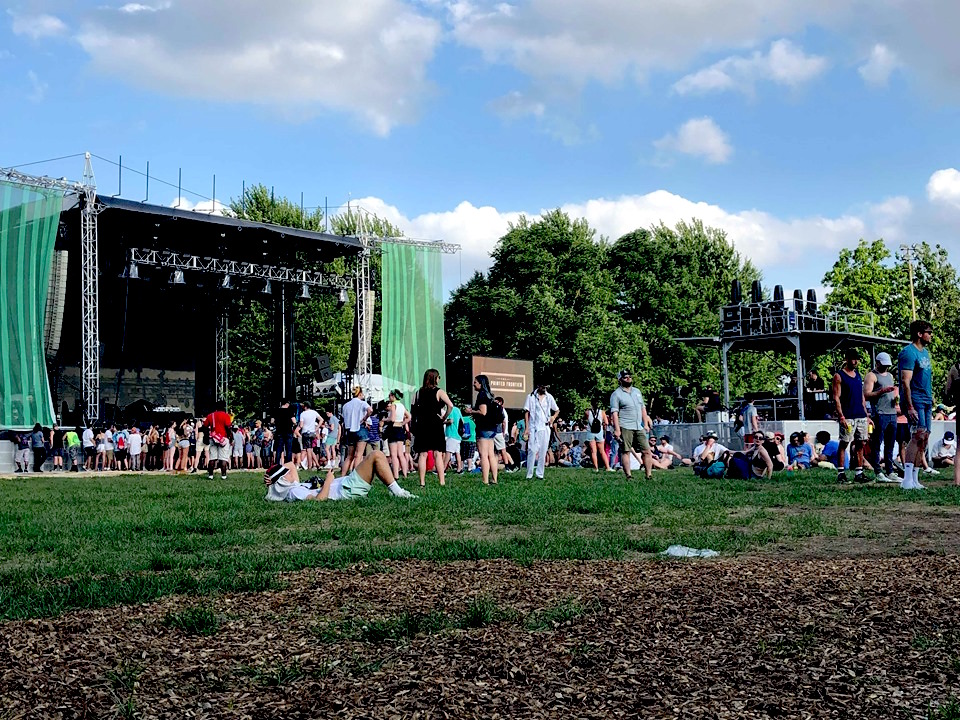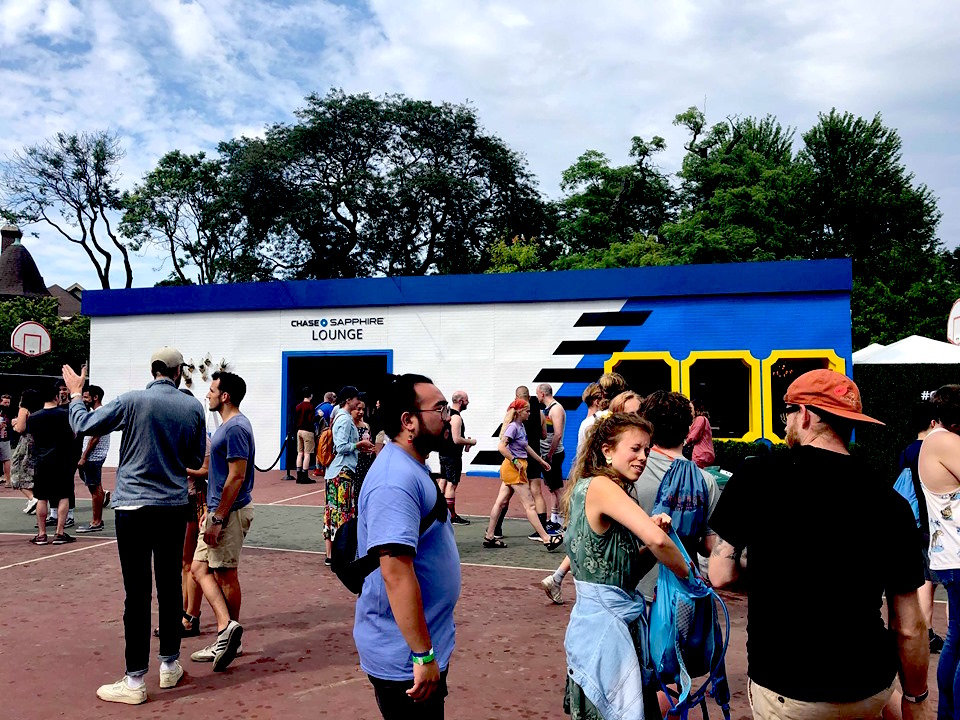 Friday
Rico Nasty, one of three women emcees to make this years' XXL Freshman List, was a highly anticipated act. The energy was on point, she came out blazing saying how much she missed Chicago, and performed songs off of her mixtapes The Rico Story and Sugar Trap, and her collaborative album with Kenny Beats Anger Management.
Nasty engaged with fans while on stage, even sitting down at the edge of the stage to catch her breath and cool off and chat for a bit. While she is a "poppin a** b*tch, not gonna lie, we were a little disappointed at the lack of actual rapping. For most of the set, she rapped over her own vocals on her tracks, and danced and ad libbed. While that can be good to keep the crowd engaged, to keep real hip-hop heads engaged, it was a little freshman.
Chicago's own Valee delivered a sleepy, sun-stroked set. Valee is a quiet rapper who has made quite a name for himself in Chicago. He is signed to Kanye's GOOD Music label, and also made the XXL Freshman List this year, and has even angered some PETA supporters with his freshly dyed red dog, who also took the stage. His set was pretty chill for a music festival, but understandably so if you consider the temps, but if you listen to Valee you would know that's his style. He played his breakout hit "Womp Womp" early in the set, and despite having a hype man, this was the apex of the show.
Later in the evening, Earl Sweatshirt followed Sky Ferreiera's performance on the Red stage, showcasing crowd-pleasing songs from his entire discography starting with "Molasses" from his 2013 album, Doris.
In total, Earl played an impressive twenty-song set. The entire show was accompanied by heavy beats, but understated, almost old-timey tunes, which allowed his every one of his lyrics to steadily reveal anecdotes about his life and his crew. As he cycled through songs like "20 Wave Caps," "The Mint," and "Loosie," the crowd bobbed along with him, raising their hands and shouting his lyrics, especially to make him smile when he pointed the mic in the audience's direction.
Meanwhile, by the end of his performance, it was pretty evident how overheated Earl was. Despite the heat, he powered through, giving the audience tastes from each of his albums and a sample of his new and old sounds from Some Rap Songs to Doris. By the end, the audience cheered as Earl left us with a final "It's hot, Chicago. Smoke a blunt." The perfect precursor to Pusha T.
Saturday
While it seemed like no one was prepared for the heat on Friday, Saturday was a different story. Trust us, it was just as hot, but this time the weather was everywhere. By midday, the entire festival was rained out, and evacuated, cancelling Amber Mark and Kurt Vile's performances and cutting Parquet Courts' performance short. But before all the drama, Pitchfork was blessed with performances from the ever-lively Ric Wilson and the wickedly entertaining CHAI.
Ric Wilson came on the stage ready to hype his audience up. Wearing a brightly colored, totally unbuttoned shirt and accompanied by a crew full of lively, purely excited backup musicians, Wilson presented a set that you couldn't help but jive to.
But really, the reason his performance was so incredible was because his energy was extremely contagious. He danced from start to finish, opening with "Hang Loose" from his mini EP Negrow Disco. In all, Wilson's performance was full of surprises. Not only did he inspire his audience to form a two soul train lines, but he also brought out the entire Lane Tech marching band to accompany his funky sound and high-energy presence.
All around, Ric Wilson was the perfect artist to kick off the Saturday lineup. He was evidently thrilled to be performing at this year's Pitchfork, and no amount of heat could change that.
Next up was the Japanese kawaii-pop group, CHAI. Describing CHAI's music is hard because it embodies so many different sounds and themes, but more than anything, it's entertaining. They came onto the stage wearing matching, brightly colored pink and orange outfits. And their look wasn't the only thing coordinated—all their dance moves were synchronized, too.
As they took over the Green stage, CHAI captivated the audience with their ability to switch between pop and rock sounds, as well as their extra enthusiastic presence. Notably, song like "Fashionista" and "Choose Go!" from their newest album Punk and "N.E.O" and "Sayonara Complex" from their older album Pink garnered a lot of praise.
But on top of everything they did well, they were deeply committed to their audience the entire time. Toward the end of their performance, they exited the stage; but just when everyone thought it was over, they came back on in different costumes—bright teal cloaks with rainbow tassels attached. They even threw water-soaked toys into the audience. The whole thing was a party and the crowd went wild. Hands down, CHAI was on top of our list of artists that topped any expectations.
After the festival grounds were evacuated due to a torrential downpour, Freddie Gibbs did not come to play, he came to deliver. Not only did he have like 20 people on stage with him as an entourage, but he also brought the bars too. Halfway through his set, he was shirtless. The sun had returned and all the old heads were out to play in anticipation for the Isley Brothers headlining set that night.
Sunday
Sunday may have been rainy in the morning, but Tasha was the calm amid the storm. She performed on the Blue stage this year, which offered her the perfect hidden sanctuary to bless us with her sound. In a lot of ways, she didn't need to do much to impress the audience. Her captivating voice and alluring sound was enough to hold her listeners in a trance while they absorbed every lyric she sang.
As the crowd welcomed her for her tenth Pitchfork, this time as a full blown performer, Tasha gave her all to us. She sang hits like "Kind of Love," "Something About This Girl," and "Lullaby." Her all women band of Chicago artists consisted of Akenya, Ayana Woods, and Red, and despite an early set and overcast, she didn't have any problem keeping us engaged.
Her songs would start soft and slow then slowly build until she blanketed us with her belting power-vocals. And by the end of the performance, the sun broke through the clouds. Coincidence? I think not. Tasha was the perfect way to start the day. The mood, her sound, and even the weather all created the coziest calming atmosphere to kick off the rest of the festival and give us a little peace before JPEGMAFIA gave us something totally different.
On the Red stage, JPEGMAFIA totally erupted the festival in a sound unlike anything else that weekend. He came on the stage wearing overalls, no shirt, and a black bandana. Accompanying his heavy, electronic beats were his harsh-no-bullshit rap vocals. His set was balancing between artificial sound and real lyrics.
As he performed "Baby I'm Bleeding," "Macaulay Culkin," and "I Cannot Fucking Wait Til Morrissey Dies," it's pretty clear that his audience is completely obsessed with him. There's a difference between audience involvement and audience loyalty. And for JPEGMAFIA, his audience literally obeyed anything he wanted. At one point, he even asked his audience to sit on the muddy grass…and they did.
But the loyalty isn't one-sided. JPEGMAFIA appreciated his listeners just the same, going out in the middle of the crowd to sing songs as they sang along and all reached to touch him. He was astonished at how many people came out to see him and was thrilled to be on stage in front of all of them.
At the end of the performance, he summed everything up by saying, "And that's that." But first, he promised all of listeners that he'd be coming out with "something very disappointing soon," at which point, everyone cheered.
Last but definitely not least, we checked back in with the Blue stage to see French duo Ibeyi perform. These twin sisters poured their soul into their music, using themes from each aspect of their background from Cuban to Tunisian. Their music was politically charged and extremely empowering.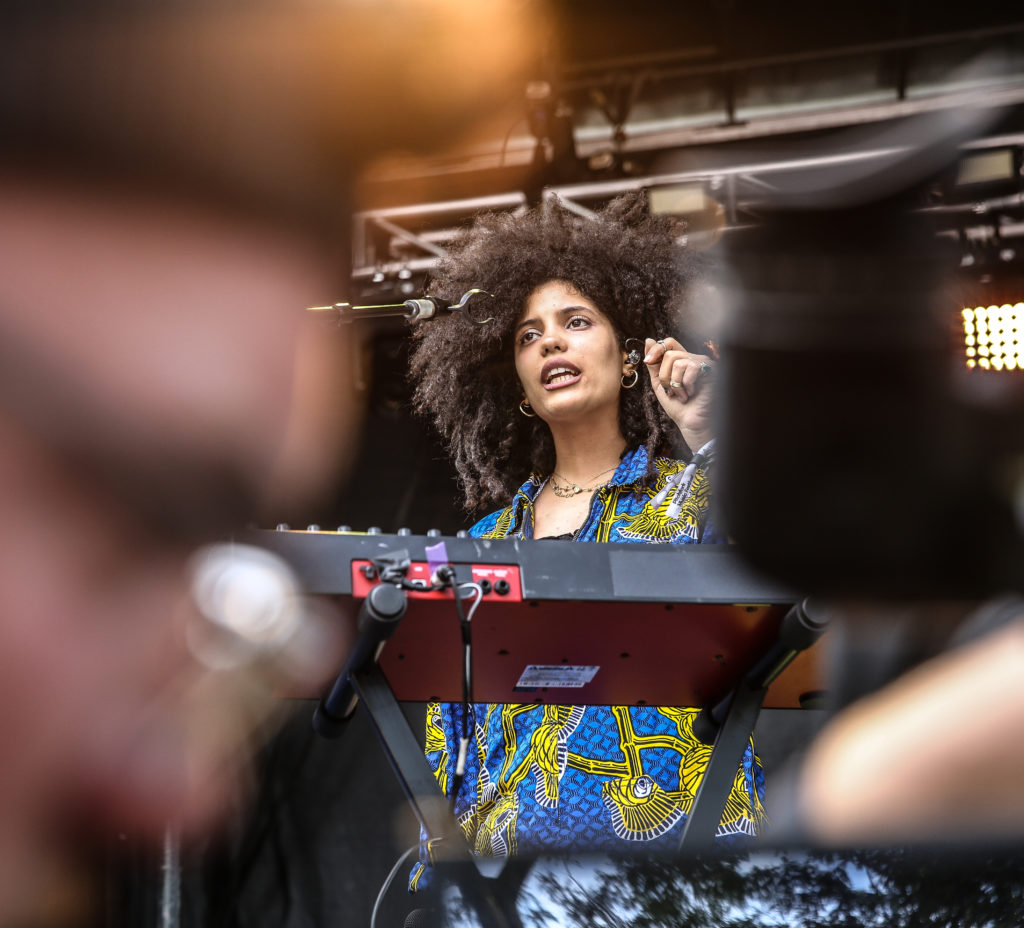 Not only did they have the entire audience chanting "We are deathless" by the end of their set, but they were also impossible not to dance with. And yeah—they danced the entire time they were on the stage. Overall, their set was super high energy and fun. While Lisa's vocals were nothing short of incredible, Naomi stole the show as she jammed out on the Bata drum.
Their song fluctuated between soft, dramatic vocals and strong, raw harmonies. Really, their voices alone were enough to have the audience wanting more. Between "No Man Is Big Enough for My Arms" and "River," the energy kept building and building. And by the time "Me Voy" was played, the whole audience was jamming with them.
By the end of their performance, everyone left energized to the max and feeling totally invisible—or should I say deathless? Ibeyi's performance was one-of-a-kind and it's no wonder why they're loved by so many other big-name musicians like Lin Manuel Miranda and Beyoncé. Being captivated by their unique sound was the perfect way to wrap up Pitchfork 2019. Check out more photos from the festival over at our Facebook here.
Photo Credits: Nate Crossley
Contributing Writer: KC Esper
---