Joy Postell was born and bred in Baltimore, Maryland, and aside from what's glamourized on television through news outlets or cable TV, there's a level of fruitfulness and productivity in this city that speaks to a larger group of youthful intellects that want to change that narrative. The soulfulness and the soothing vocal deliverance of Postell's inspirations of Nina Simone and Billie Holliday echo true and deep in her newest project, Diaspora. When listening to the beginning of the album, you're immediately deep-rooted with this jazzy infomercial, praising the astonishing effects of this brand new hair product entitled Diaspora, which consists of "Five grams of freedom, a dash of liberation, and to top it off, some knowledge of self, and moisturizing your roots so deep that you tap into the motherland."
For this 10-track record, it breathes equally as both an album and a soliloquy, that speaks heavenly to the elegance within black people as an entire nation. While Postell does present us with politically-motivated tracks via "Consciousness" and "Water," it's her emotional vulnerability that gives her strength with tracks like "Seattle," "HYD," and "Signs." Listeners are met with a realization that this is a something to embrace, and not distill or water down. About a week before her album release party  in Baltimore, I got a chance to speak with Joy about the creativity she instills while being in Baltimore versus LA, why she was hesitant in dropping this album, and how she's developing her platform to speak to a larger audience about the issues that have a longstanding effect on this country.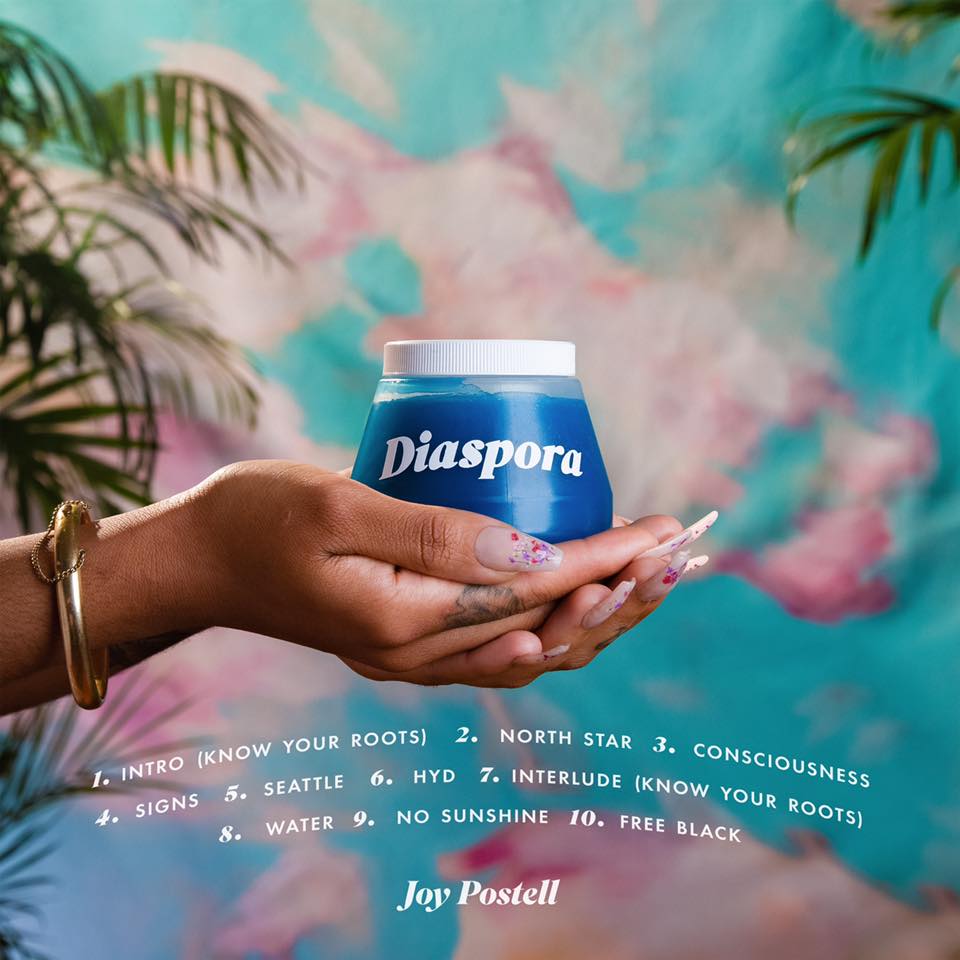 AMFM: So, talking about the album, one of the things that I loved about it is apart from the liberational messaging that comes out from you, is the level of density when speaking on drug abuse in "Seattle" that is so potent and effective in its subtle delivery. Where did you have to go to find that level of complexity and create such a powerful story?
POSTELL: That story is kind of about two people, and I kind of formed it into one song. So, it was two forms of heroin; one of my friends was addicted to cough syrup back in Baltimore, and my other friend was addicted to smoking heroin, and I saw him smoke it when I was in Seattle. Up until that point, I had never seen the process on how one would take it and seeing him do that reminded me a lot of my friend back in Baltimore who would nod off whenever he'd sip on lean, in the same exact way the heroin addicts in Seattle would. And the song kind of came organically through that [experience]. I was touring with that song, and I'd think about my friend.  I finally was able to be heal enough in talking about it. Also, Baltimore is a port city so they get first dibs on the heroin, and that just shows how much of an epidemic this drug is and the effectiveness of it as well, so that was the thought process behind the song "Seattle."
AMFM: The interludes in the album are interesting; the way you utilize the message of consciousness (knowing your roots) through usage of hair maintenance resembles the "Soul Glo" infomercial from Coming to America. How did this concept come to you, and where did you find this idea to not only highlight the usage of hair as a symbol for black people, but make it much deeper than that?
POSTELL:  We actually made those interludes six days before we dropped the album. Initially, we were going start the album with "North Star," but it would've been too dark of an opening for us on this album, and I kind of wanted to lighten it up. My peer Butch Dawson did the intro voice, and I always was interested in the hair ads that blew up in the 70s and 80s. But also, Diaspora for me represents a land, kind of like Wakanda in some sense, right? Just being a black person, it doesn't matter what part of the diaspora you come from; being black, your hair is fucking crucial. Knowing your hair is knowing your roots, and that's the message that I wanted people to grasp, even if it was presented in a comical tone [which I was so happy to see it turn out like that].
AMFM: It certainly brought in a lighter tone to the center of the album, even when you placed in your testimonial white voice; like how your credit score skyrocketed and you were like "Thanks Diaspora!"
POSTELL: THAT WAS ME!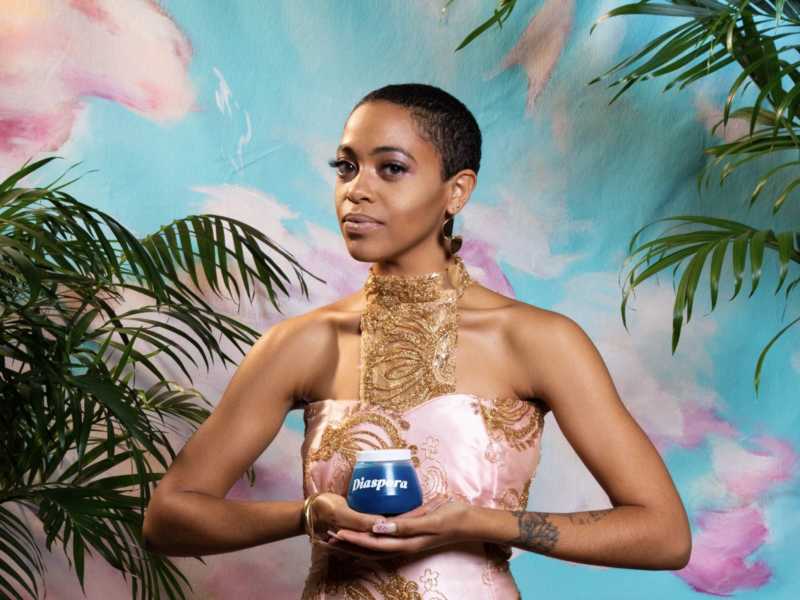 AMFM: There's a trilogy of genres in this album, touching on Jazz, Soul, and R&B. But also, the DMV area has been getting a lot of buzz as well, with artists like Ohbliv, Fly Anakin, Nickelus F, and many others. With this release of your album, is it safe to say that Diaspora is leading the forefront what DMV music is and how it is represented?
POSTELL:  I don't know if I can say that but, I know that with the people you just mentioned, it's less about moving away to get famous and more so about building on your roots. It all ties back to that. I mean, I come out to LA for some time and travel or whatever, but I create better music when I'm back here in Baltimore. I think it's just refreshing to know that there's an option; I don't need to travel to other spaces in order to make dope shit, I can still do that here.
AMFM: When you moved back to Baltimore from LA, was there anything to take away from being here that sort of pushed you into finishing this project, and wanting to represent your city in a way that not only the people of Baltimore would see it, but everybody else would be inclusive in it as well?
POSTELL: Yes. I'm always blown away by the quality and the way things are packaged in LA. It's industry level, like Interscope is right up the street from you. You can literally see where the possibilities could take you, versus being in a town where people think that no one's paying attention to them, and you have to create that world for yourself. LA's got a rich history of Hollywood; you went to high school with Selena Gomez or Tyler the Creator. It's all about who you know and networking, but you have to build upon that and have the quality work to show for it, on an individual basis.
AMFM: The music video for "Water," signified a revelation for black people's strength and resilience to move as one, like the water underneath them. The stills of young black men and women in the video showed me that amongst all the distractions and headlines, they still remain intact. Talk about how that track and that music video came into fruition and how you expected it to come out to be.
POSTELL: For that song, I feel like there's so many layers and textures, and I wanted to really symbolize portraiture. I wanted powerful images of black people in the water, and I wanted to show not only stoic powerful images, but playful images as well. In the midst of the BS, you're still going to laugh and smile, and that's the true strength to me. Being able to smile, wake up, and love, having the courage to say hi to your neighbor, especially when we've been pinned against each other for so long to the point where we're actually scared of each other. Also, water is so deep for black people; this is how we got here. Whether people were forced here or they came on their own accord, you came here via water. The Atlantic Slave Trade, whether you went to the Caribbean first then here, or you came here straight from the Motherland, water is how we're here. That is such a deep message, and I can't imagine being placed in that position back then. I've always felt free within the water, and I also wanted to break the stereotype about how black people can't swim.
AMFM: Which of course is not true.
POSTELL:  Yea, I love the water. And I'm a water sign as well, so…
AMFM: What's your sign?

POSTELL: I'm a Cancer.
AMFM: That makes sense, I can see that. This, in the end, is a nostalgic album to listen to, with tracks like "No Sunshine," I kind of picture myself in the cafeteria with my friends making beats on the lunchroom table. It takes me back to a level of youthfulness that is hard to come by. That being said, where does one go from here? 
POSTELL:  Next step for me is getting in the studio, working with producers more consistently. I don't think I'm going to be putting out music a lot, but I do want to work consistently, create a build up of like 50 songs to choose from, that are complete from start to finish. But also, I want to push this, touring this, and working on new stuff. We've got an album release party here on Friday that is a packed show, and I'm super excited for it. We're at like 350 RSVPs already.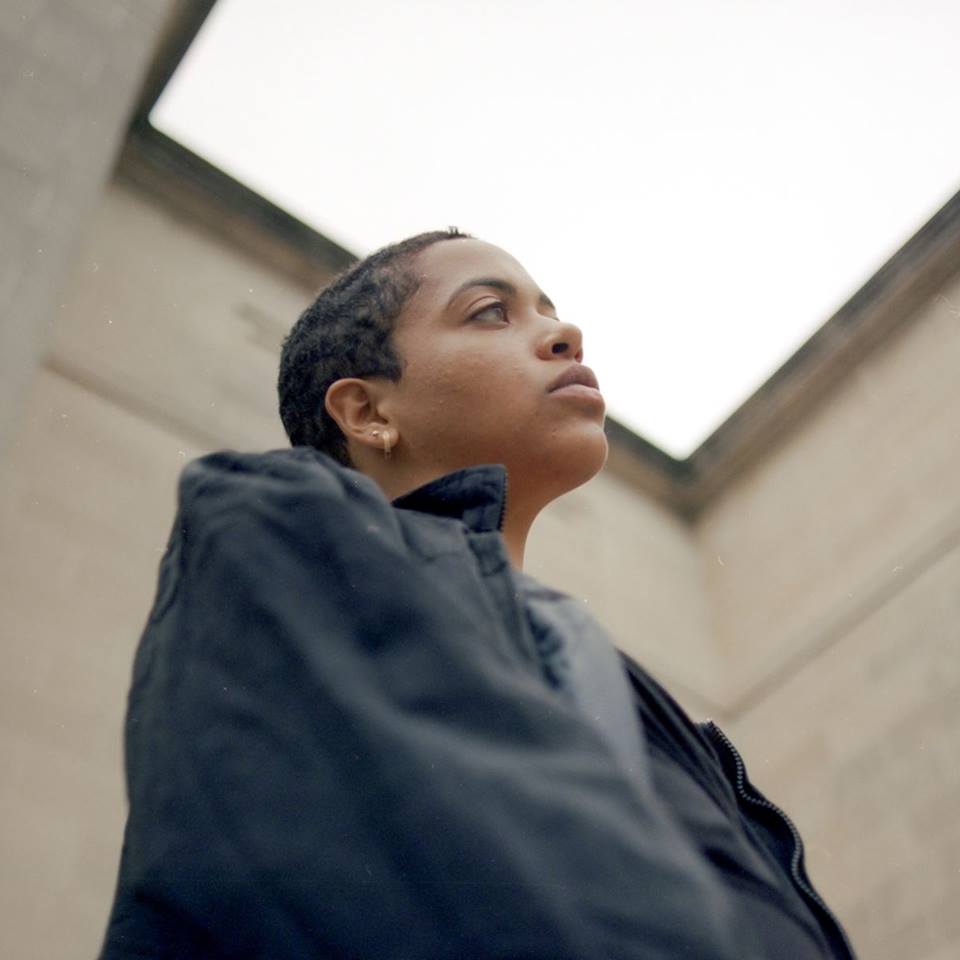 AMFM: What does it mean to have a city behind your back like that, that's so supportive of where you came from, and knowing that they've seen you grow not only as a person, but as an artist that is so inclusive to everybody in their city? How does that feel?
POSTELL:  It's pretty overwhelming, in a good way. Like if you can't go home and pack out a show, have you really made it? Even if you travel and you go around and you go back to where you come from, and your people aren't coming out for you, did you create a character? I have some friends back when I was in middle school, friends I haven't talked to for years, showing me genuine love and appreciation for representing the city of Baltimore. I do everything myself, I don't ask people to promote for me, I don't pay for press, none of that stuff; this is all organic. I'm just interested in keeping it as genuine and as true as possible. The greatest people I look up to; they all came up with people around them, not ditch them as they got hot by themselves. Like fuck a co-sign, the people are the co-sign. But I'm also genuinely surprised.
AMFM: But are you though? I mean considering the amount of work and time you placed into making this album, and still feeling surprised or overwhelmed…
POSTELL:  It doesn't make sense right? I even had this discussion with my drummer, and he was like "I'm not surprised." But I am. I was planning this show, not sure of how it would turn out, or if it would pack out at all, and everyone else seemed to believe before me, and that's something that I've always been grateful for. I was really close to not putting out this album, too to be honest. I wasn't sure how people would react to it. But I'm blessed to surround myself by people that will motivate me to do and be better, not just as an artist, but also as a human being in general.
Joy Postell's NYC Diaspora Party is also set for December 9th, featuring openers B. Cool-Aid, Amani Fela, and DJ sets from Jada Lareign & Mateyo.
For more information about Joy Postell:
Contributing Writer: Abel Araya
Photo Credits: Facebook, Joy Postell
---