Aside from food, we were serving up some looks last weekend at at our FEAST festival! Stylists Sal So Groovy and jellywithnoj joined forces and curated a buffet of style for a fashion show on site at Douglas Park. The show featured pieces pulled from both of their personal collections, and designers and boutiques Edaa Birthing, SanJules, Kenya Sherron and Pilsen Vintage. Inspired by extravagance, the two came up with the concept and shopped and chose models together creating a true collaboration. They also cited John Galliano and Jean Paul Gaultier mixed with the 90's as the aesthetic they wished to execute. The results were decadent, with statement piece beaded pink pearl necklaces, large flared pants, tulle, repurposed belts, and hidden trinkets. Check out some of the looks below and hear from both stylists about what inspires their personal style and their work!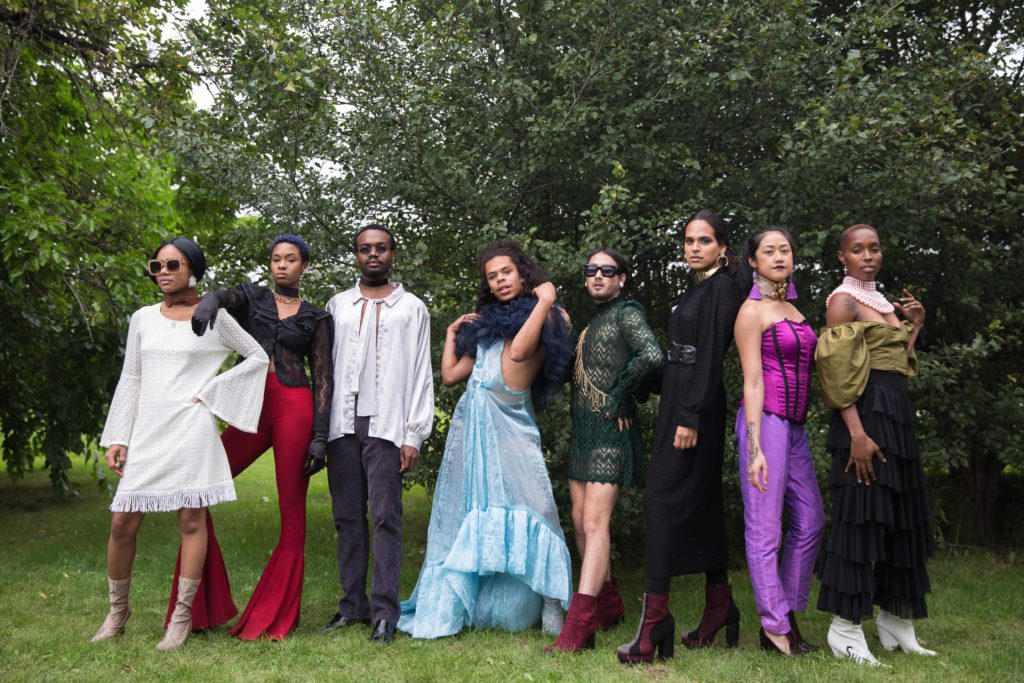 SAL SO GROOVY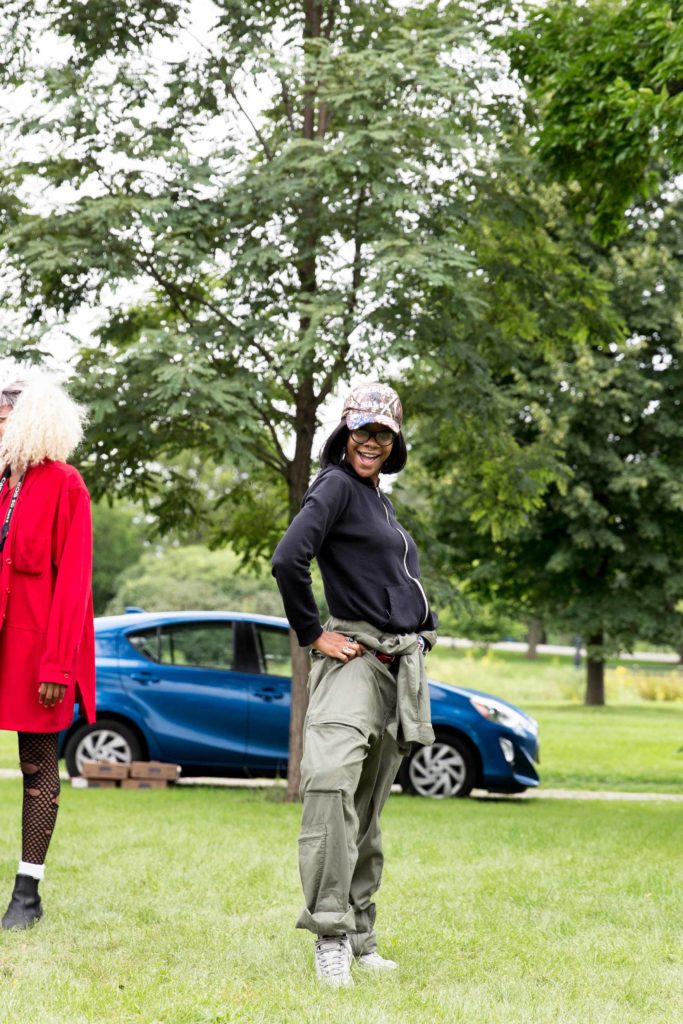 AMFM: You're from Memphis, how do your southern roots translate in your styling work? How would you say the south made you and how has your approach to style evolved since being in Chicago?
SAL: My styling is sharp, classy, dignified, and sexy all at once. That's what the south gave me – the ability to communicate multiple moods in a look, the ability to bridge classy and sexy, and the mindset that one should always look their best, as if everyday is Sunday. The south has made me appreciate all things stylish. I can make Family Dollar shoes look like Balenciaga's. I draw a lot of inspiration from my Late First Lady, Mrs. Billie Smith and Dr. Betty Austin who were the most powerful and stylish women I've known.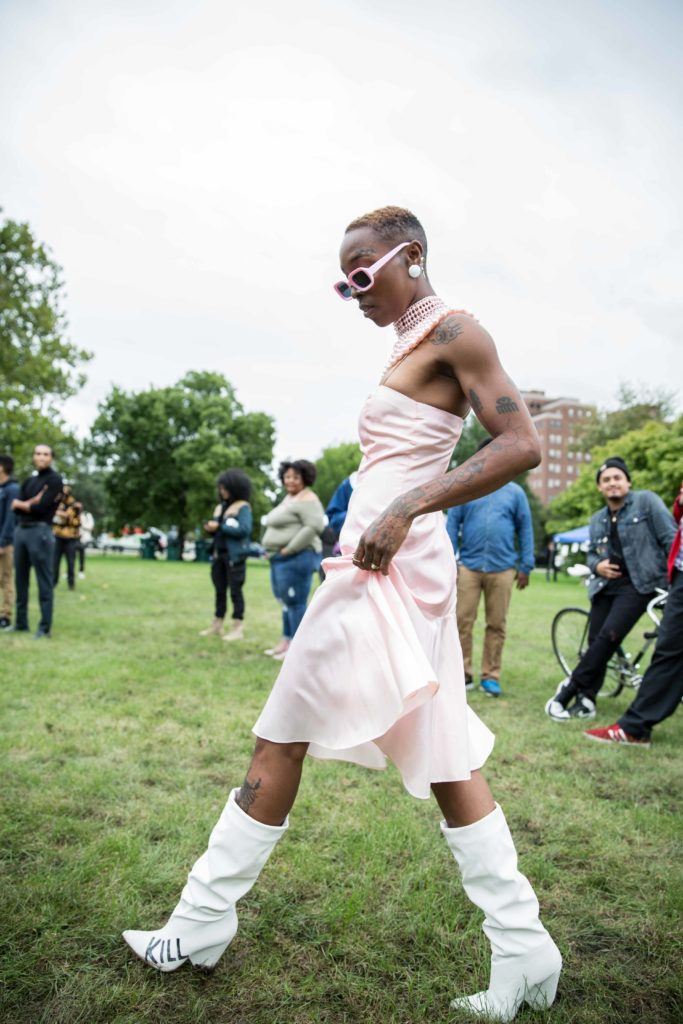 AMFM: How has your approach to style evolved since being in Chicago?
SAL: My approach to style has almost done a 180. In the beginning, all I knew was what I liked to wear. For a few shoots, I really styled people JUST like me. That was a mixture of just beginning to practice and not having access to places to pull. My styling aesthetic has my essence now. It has my posture, but it is not a replica of me. The way I interpret moods has expanded, and I have begun to develop signatures in my work. Many times before, I would wear something a certain way, and then style it on a person, but now, I may style something a certain way then wear it, like reverse inspiration.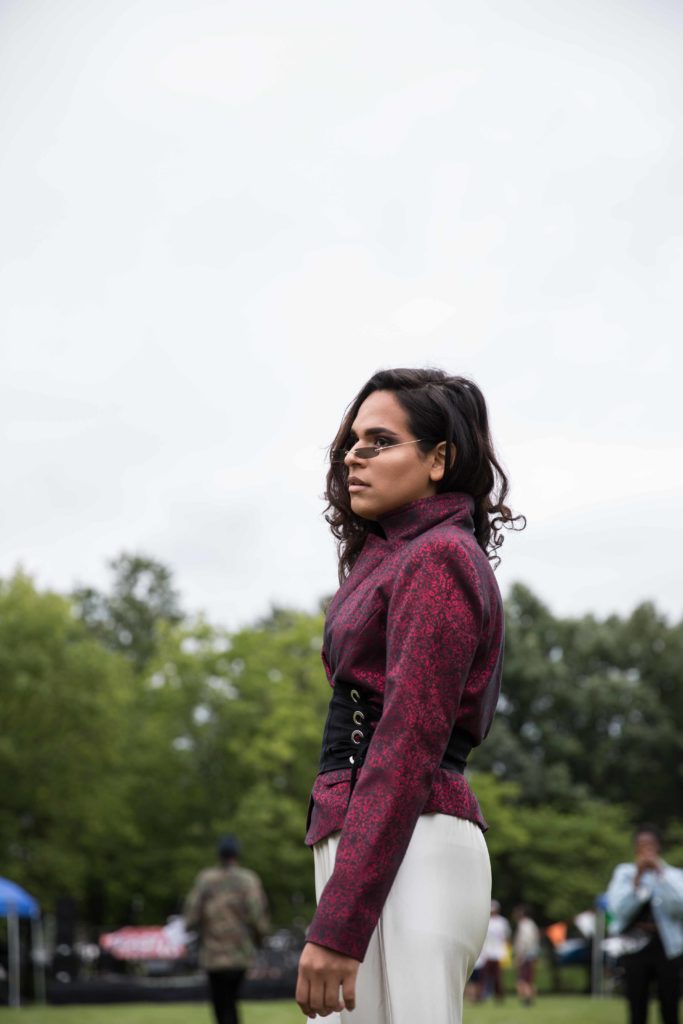 AMFM: You have done a lot of commercial work, and also artistic conceptual work, how do you approach or navigate these two realms when it comes to creating a look?
SAL: In commercial work, it is about the goal of the client or company. Simply put. I am mostly guided by the creative given to me and some instinct of how clothes look off of a hanger. For artistic conceptual work, it's about what I want or the photographer and I want. Many times I'll be inspired by a color scheme, texture, or shape and build a concept around that. I also give myself little challenges for each conceptual project so that I can be sure I am always trying new things, even if it's as small as changing what kind of bag I take to shoots. I also try to make sure everything is my own and I am not attempting to create in response to something I've seen on social media.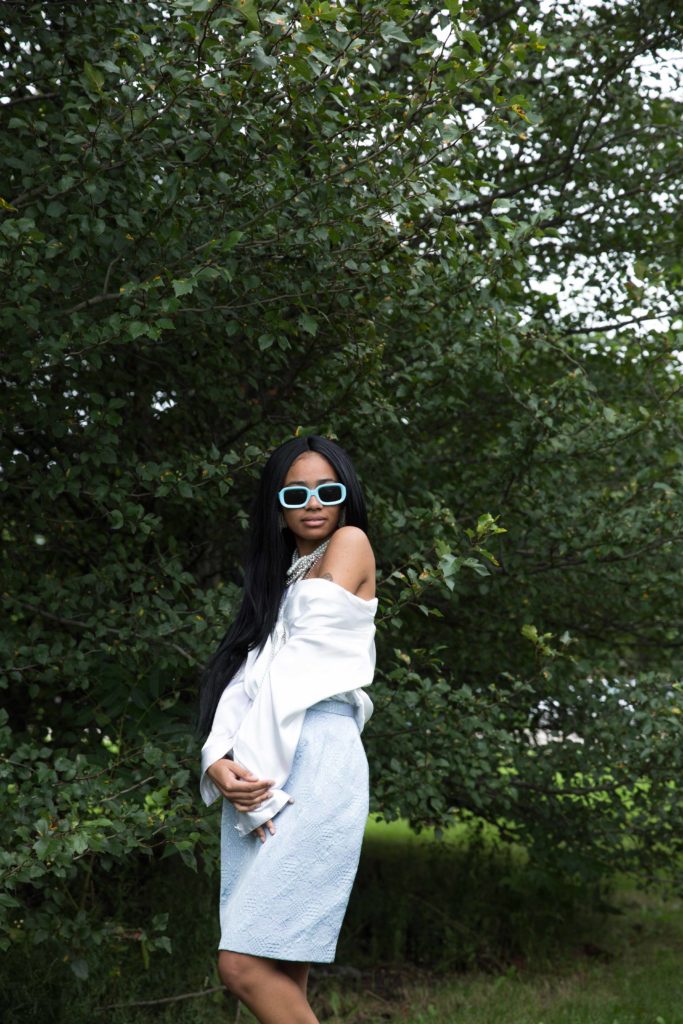 AMFM: What are your three must haves when it comes to your signature style?
SAL: I gotta have rings! I have like four rings that wear, two on each hand. I rotate styles about every three months. Sunglasses and glasses are a must. I like wearing sunglasses because no one can see my eyes. I love shoes. I love mules. I love a boot. I LOVE a boot. Boots are God's gift to feet.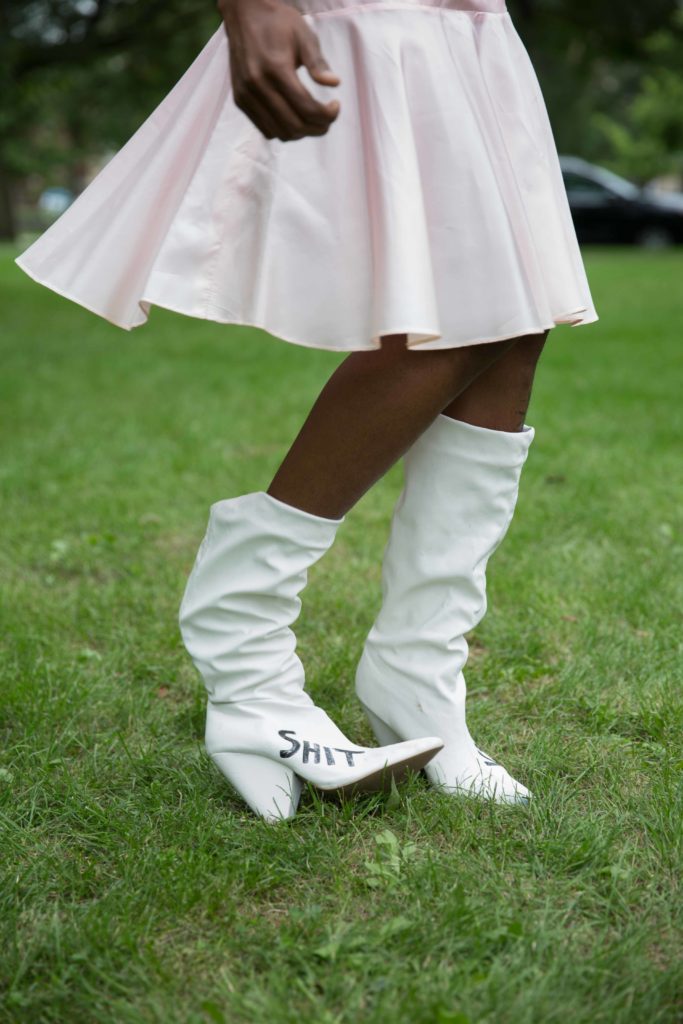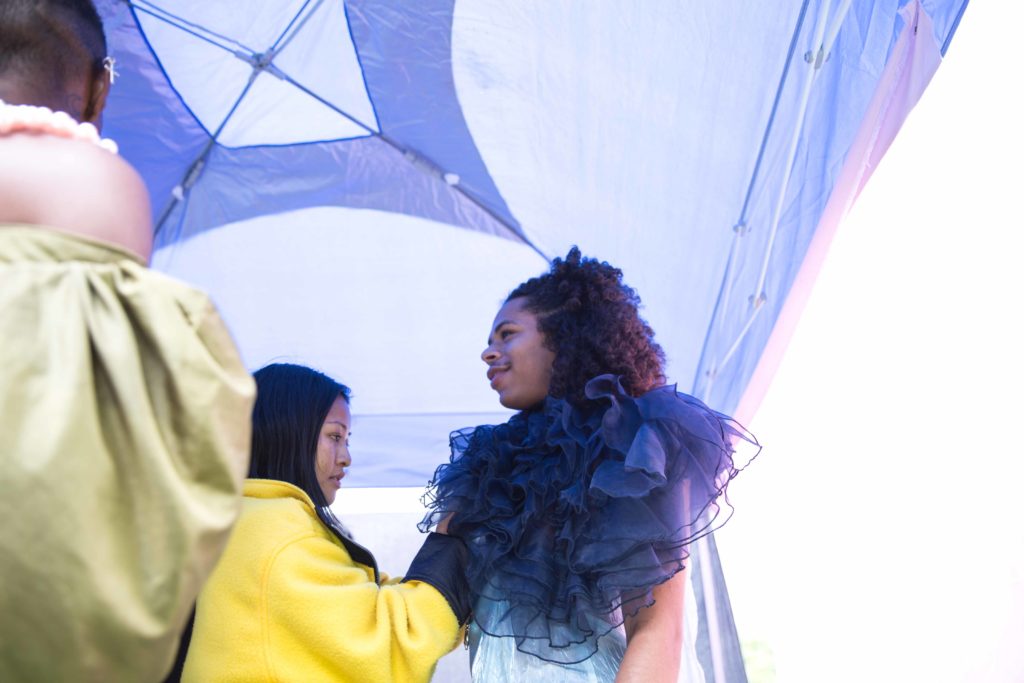 AMFM: You have a playful fun element when it comes to your styling technique, including unconventional items, where does this aesthetic come from and how do you like to push what's considered fashion?
JELLY: I think I'm generally a playful person and I always dress how I feel, so that makes sense. As for the unconventional items, I'm always trying to think of the future and what's next, so I feel attracted to what is unconventional because it isn't what we're doing now. I hate looking at clothes and seeing that we're just repurposing the same styles and even worse, the same shapes. I shopped for a lot of the Blooming fashion show at a Science Surplus store and Home Depot. Mixing these items in with what we already know is my sneaky way of trying to introduce new trends to the world. In addition, I always try to make sure that these items serve some kind of purpose. I love fashion with function and I have so many ideas for pieces with multiple functions. Multi-functional fits! It's the future!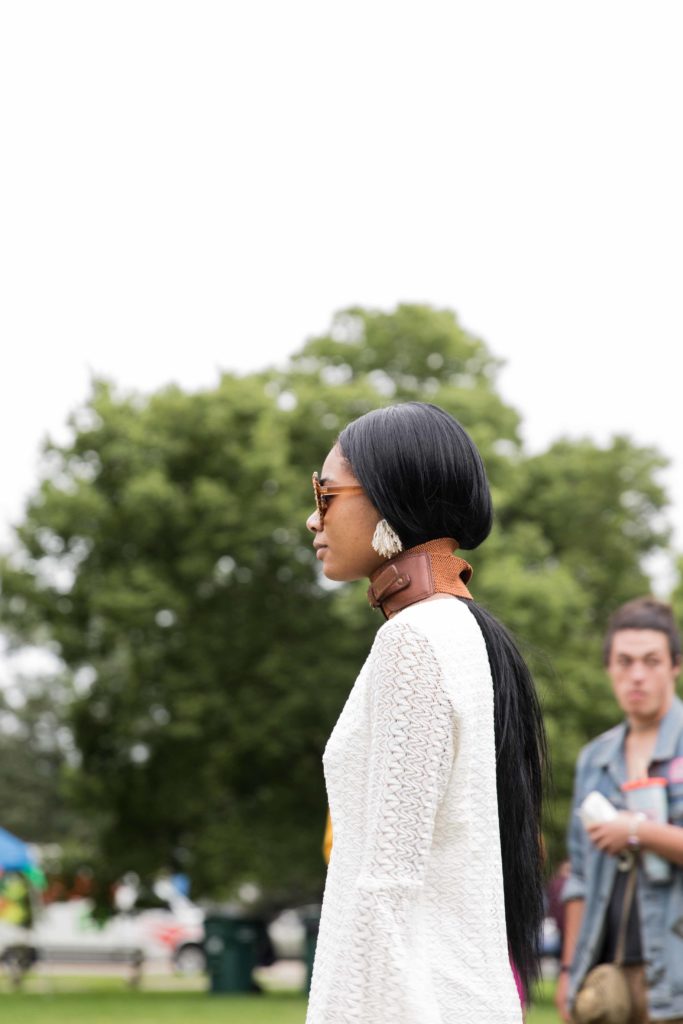 AMFM: You just started styling and making your own clothing, what made you want to break out into fashion and styling?
JELLY: I don't really have a straight answer for this one. When I left my career as a teacher, I knew I was going to do something that would allow me to be more visually creative. I was feeling very stifled. One thing that really bothered me about being a teacher is that I wasn't necessarily allowed to express myself through clothing as much as I would like. I felt if I dressed how I wanted sometimes I would seem too close in age to the students (they were in high school) or be seen as too provocative. It seems petty, but it really means a lot to me to have the freedom to wear what I want. During my last years a teacher, I wrote a lot. I planned a lot. Envisioned the life I wanted. I wrote down the words, fashion, events, and travel in all of those notes. I just knew that those were the things I was interested in being good at. I also read this autobiography on Coco Chanel. It's called Coco Chanel and The Pulse of History. It really brought to light the social and political implications that fashion has and can have, and made me realize that I could influence the world positively through fashion. I've learned that I will always be a social justice warrior and that nothing I do comes without a cause, so jellywithnoj was created with the thought that I could influence people to consume more wisely and more slowly through design and events. I think the world of sustainable fashion has a large focus on sustaining the creation of goods through recycling and sourcing quality materials, but we haven't yet really thought about the rate at which we consume goods and how to sustain that. I think that is where multi-functional fits and events come into play.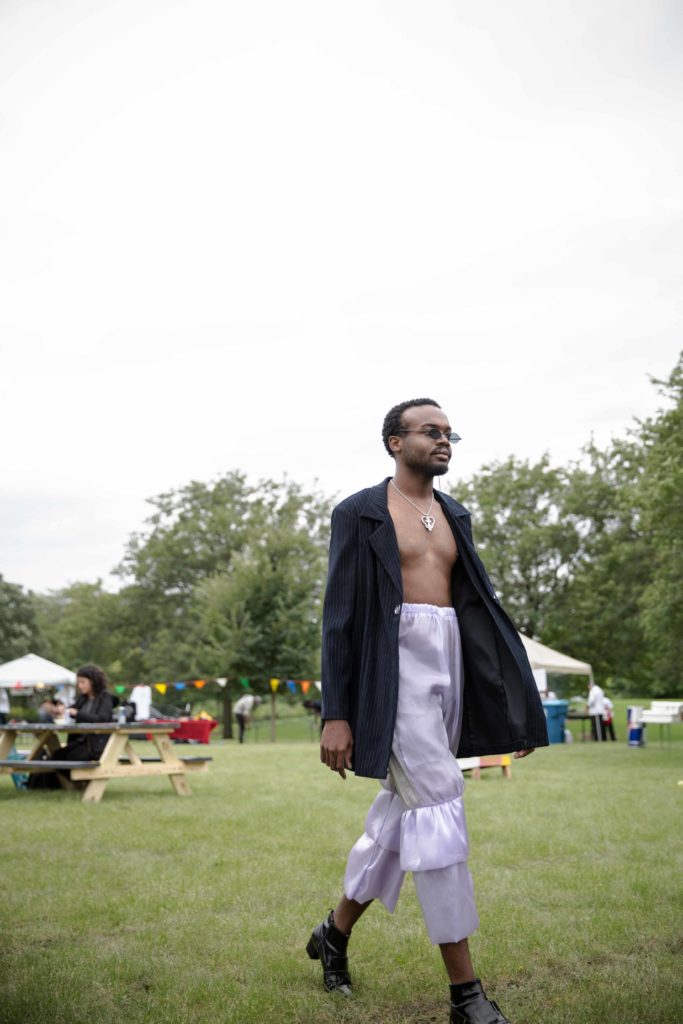 AMFM: What are your three must haves when it comes to your signature style?
JELLY: Must be comfortable, have pockets or a purse (shoutout @badboyriri) and some kind of accessory, usually my sunglasses!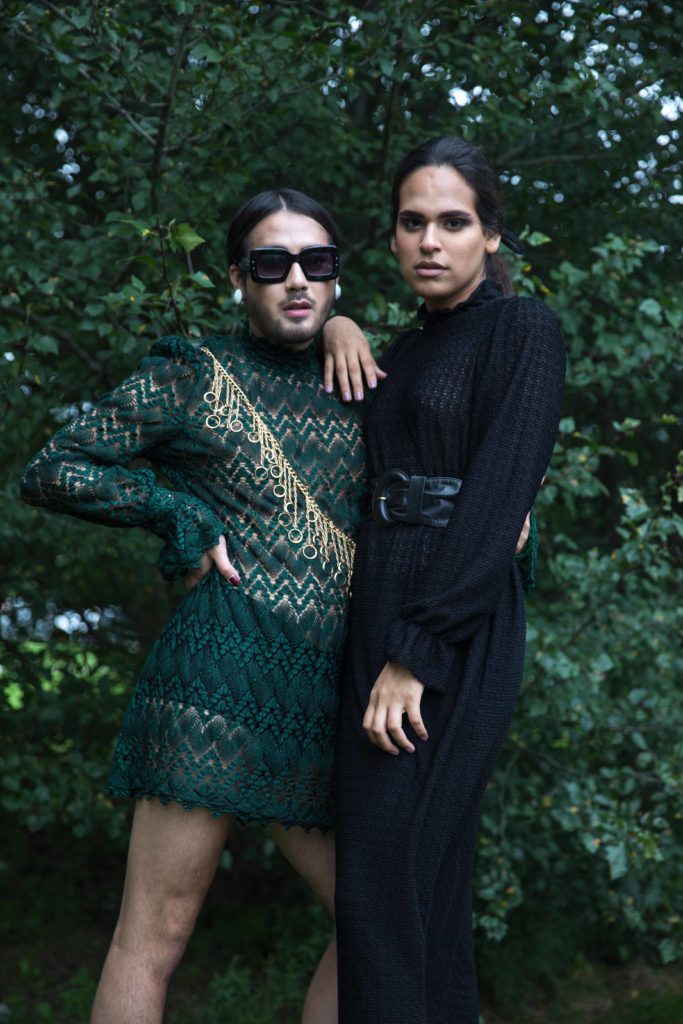 Photo Credits: Chelsea Ross

---