To experience Roland Santana's art is to dive headfirst into an experiment of shape and color. Everything from the paint to the canvas itself defies the traditional dimensions of what a painting "should" be and brings the viewer closer to their relationship with abstraction. No matter how large (or small, as evidenced in his recent magnet collection), Santana keeps his art on the border of painting and sculpture, using materials like polystyrene foam, terry cloth, and enamel to lift each piece off the wall and carry it into the viewer's space—which, admittedly, tempts breaking the universal "don't touch the art" rule at galleries and museums.
At one moment, Santana's work is playful and seemingly as simple as a crayon drawing. At the next, it's complex, untidy, and gripping. Though abstract, each piece contains something familiar, allowing the audience to make connections to their own lives. Santana spoke to our writer KC Esper to discuss that connection, experimentation, empathy, and much more.
AMFM: Your work harmonizes and juxtaposes complexity and simplicity, light and dark, paint and material, movement and stillness, and so on. What do you try to convey by combining these different approaches and how do you make them play nicely together?
SANTANA: I'm inspired by industrial processes. Because of my upbringing, my connection with materials like concrete, plaster, and foam is more familiar than traditional art supplies. I look for a balance between instinctual rawness and formulated decision-making. When I am in my studio, I try to put myself in situations where I'm discovering something new. Taking risks is a big part of my process. There is a lot of uncertainty, but I find it more positive than stressful. I've learned to enjoy and accept the mistakes as part of the picture, and sometimes I intentionally recreate those mistakes. Color combinations come instinctually from what I see my friends wearing, colored lights, films, and nature. So, I think the reason it plays nicely together is because there are subconscious similarities to the information we take in every day.
AMFM: How does your approach differ when you start a more abstract piece versus when you approach a figure drawing or something more familiar to an audience?

SANTANA: My figures come from photos I take of friends, or from moments I find interesting. Recently I've been using live-streamed DJ sets as a reference. DJing and nightlife culture are big influences and watching how DJs evolved during the pandemic was interesting to me. I don't work in a linear way, and both my abstract and figurative work influence each other. My exploration in materials adds texture to my figure works, and the human shape guides the form of my abstract work.
AMFM: A lot of your pieces (especially the 2020 paintings) are named after strong emotions. In addition to your own life experiences, how does emotion shape or inspire your pieces?
SANTANA: 2020 was a very emotional year. I was nostalgic, pulling from memories of family and friends. Titling pieces is a whole different process, and it takes time. I like to give epic titles to pieces with little content. When people analyze an artwork that is titled, they try to find the similarities between the contents of the piece and the title. For me it is intriguing that I could create those moments with words—I find it cinematic. There is a series I worked on during the beginning of the pandemic titled Isolation—it's pretty obvious that I titled it this because of the lockdown orders. For two months I was routinely painting over the same gestures, adding layers of different tones of a similar color, expressing an energy of being contained. Emotion is a big force in my work. Individually or together, I'm looking for feelings of euphoria and unease.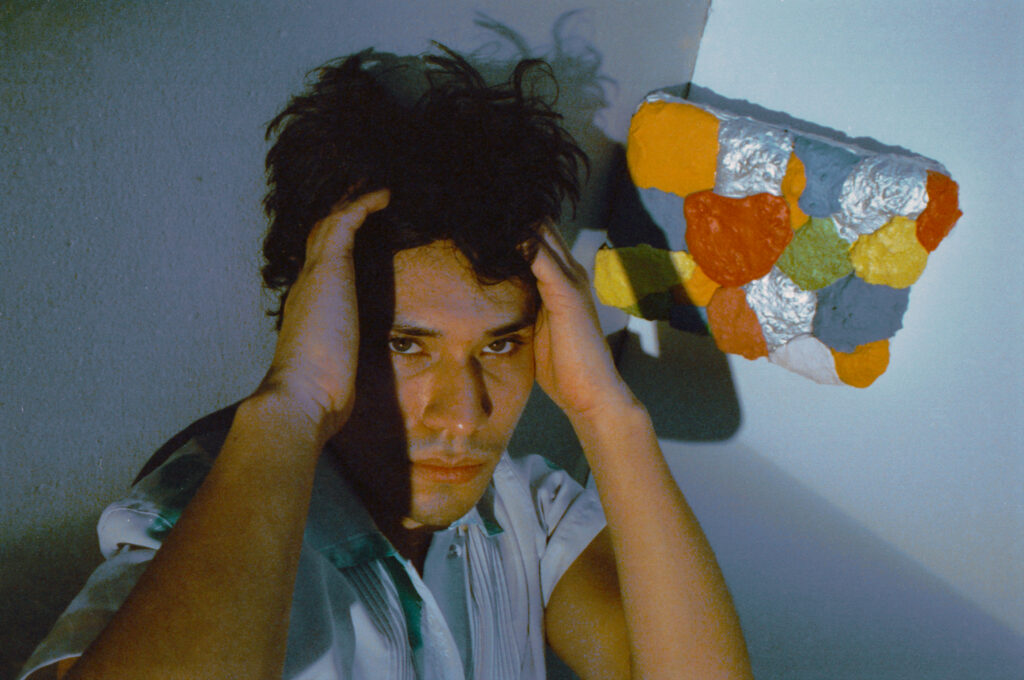 AMFM: Is there a particular way you hope an audience experiences your art? And how does the space you keep in your art influence that experience?
SANTANA: I think the interpretation of my work evolves with how much time you give to it. You can hate it one day and love it the next. I accept that. I have a lot of reasons why space interests me. I initially see it as an appreciation for the main surface material I am using, like raw canvas or foam, then I look at the space in between my marks or whole surface to begin a conversation between the architecture of the gallery or whatever environment the work is placed in.
AMFM: Is there anything you'd like to experiment with in the future?
SANTANA: Being an artist is a long career. Right now, I am interested in the materials I'm using. I want to continue the same mannerisms but explore new technologies and spaces to incorporate them in.
For more information about Roland Santana visit:
https://www.rolandsantana.com
Contributing Writer: KC Esper
Photo Credits: Daniel Delgado, Roland Santana
---